Albuquerque Truck Accident Attorneys
No Case is Too Big for Our Team
Were you involved in a violent truck accident while traveling the highways of Albuquerque like the I-25 or I-40? Dozens of serious truck accidents happen in this region each year, but that doesn't mean that you should let your case be just another statistic. Stand up for your rights as a seriously injured driver and let McGinn Montoya Love & Curry help.
Our Albuquerque truck accident lawyers are passionate about keeping the roads in our community safe. As Albuquerque locals ourselves, we think it is inexcusable for commercial truck drivers and trucking companies to skip on important safety precautions and put everyone on the road in danger. By fighting the good fight for our friends and neighbors, we hope to bring the number of truck accidents in our city down to zero.
On This Page:
Call (505) 405-4441 or contact us online for more information.
How Do Truck Accidents Happen?
On the surface, the cause of a truck accident might seem simple: a truck driver lost control and hit you. When diving into the details of the situation, though, the case might become quickly complicated. Part of our role as your truck accident attorneys will be to navigate everything for you, get to the truth, and find evidence that shows how you weren't to blame for the life-changing crash.
Depending on the result of our investigation, we might uncover many forms of negligence that contributed to the crash. Furthermore, if there are many forms of negligence that cause a truck accident, then it might mean that there are multiple defendants that we must file against.
Common causes of truck accidents can include:
Truck driver is distracted, intoxicated, or exhausted behind the wheel.
Truck driver breaks the speed limit to complete a route faster.
Truck is not maintained properly, leading to a mechanical failure.
Truck is not loaded properly, overweighting or misbalancing the truck.
Truck company did not properly vet a new driver who is not qualified for the job.
Severe Injuries Caused by Truck Accidents
A commercial truck can weigh up to 80,000 pounds in most situations. This massive amount of weight gives the truck a huge amount of momentum and force, especially when traveling at highway speeds. When a crash occurs, the worst of the impact will be imparted on the smaller, lighter vehicle. For this reason, truck accident cases normally involve catastrophic injuries. Indeed, at McGinn Montoya Love & Curry, we dedicate our representation to truck accident claimants who have suffered severe and life-changing injuries because they need our help more than anyone.
Our firm can help clients who have suffered severe injuries in truck accidents, such as:
Traumatic brain injuries (TBIs)
Spinal cord injuries
Amputations
Third-degree burns
Soft tissue injuries
Permanent disfigurements
Did you lose a loved one to a truck accident? During this painful time, please know that you can rely on our firm for legal compensation and genuine moral support. We can advance a wrongful death claim on your behalf while you take care of yourself and your family.
Significant Compensation Owed to You
If you have been severely injured in a truck accident, then the compensation that you deserve could be significant. With that said, you can also expect that the defendant, insurance company, and opposing counsel will not be fine with the idea of you getting so much compensation. They will fight at every step and in whatever way they can.
Get your truck accident claim ready with our legal team leading the way. You never know which case will go to court. For this reason, we take the time to prepare every case for trial. This early preparation has proven crucial in the past for getting an advantage over the opposition, and your case deserves every advantage that it can get, especially when so much money might be hanging in the balance.
Let us fight for full compensation that pays for:
Past and future medical costs
Past and future lost or reduced income
Pain, suffering, and hardship
Vehicle repair or replacement
How McGinn Montoya Love & Curry Can Help
Working on a truck accident case is a full-time project. If the defendant doesn't want to admit liability or the insurance company wants to challenge your damages, then the work needed to handle the case will only increase. You should be resting and taking care of yourself, not dealing with a pile of legal requirements and tasks.
McGinn Montoya Love & Curry and our Albuquerque truck accident attorneys are here to help you handle every part of your case. We have been helping locals in situations like yours for more than 35 years, so you know that you can trust in our experience, talents, and resources.
We can help manage your truck accident claim by:
Investigating the accident and locating evidence of liability.
Calculating the damages owed to you.
Filing the claim against the correct defendants.
Responding to inquiries from the defendant and their counsel.
Negotiating for a settlement.
Litigating in court if needed.
Call a Firm with a Big Reputation
Trucking companies and their insurance companies fight back against almost every single truck accident claim. Stand up to them with the help of our highly experienced Albuquerque truck accident lawyers, who have spent their careers focused on life-changing injury claims and lawsuits. Our reputation precedes us, so the liable parties will know to offer a fair settlement or get ready for a tough legal battle.
Ask for a FREE consultation by dialing (505) 405-4441 now.

Notable Case Results
Hundreds of Millions Recovered on Behalf of Our Clients
Medical Malpractice $67.3 Million

Wrongful Death $52 Million

Trucking Crash $18.9 Million

Medical Malpractice $9 Million

Medical Malpractice $7.8 Million

Wrongful Death $6 Million

Wrongful death $3.7 Million

Medical Device Defect $2 Million

Trucking Crash 8-Figure Settlement

Wrongful Death Amount is Confidential Albuquerque Truck Accident FAQ
Who is liable for a truck accident?
The liable parties or defendants in a truck accident case can vary. On the other side of the case might be the truck driver and their insurance provider, the trucking company, a truck part manufacturer, the company that loaded the cargo, or another party related to the industry.
How do I find a truck accident lawyer that fits my case?
You should feel free to ask our truck accident attorneys as many questions as you want during a no-cost initial consultation to get a feel for our team and representation. We understand if you would like to talk to other law firms before making a decision. However, we have a feeling that you will choose us due to our personalities, commitment to other locals in Albuquerque, and winning record for catastrophic injury cases. We have personally handled some of the largest and most complicated truck accident cases in New Mexico.
What happens if I partially caused the truck accident?
New Mexico is one of a few states that use pure comparative negligence rules. Under this liability rule, you can file a truck accident claim if you are less than 100% liable for the crash. You could be 99% liable and still have the right to start a claim. Although, the higher your liability, the more challenging a case will be and the more your compensation will be reduced if any is secured.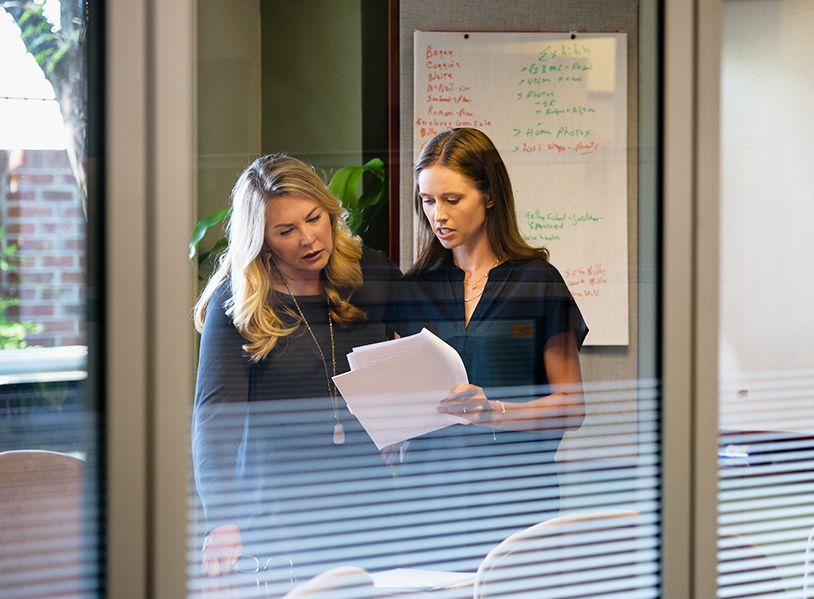 Determined to Make a Difference
Why McGinn, Montoya, Love & Curry?
It's All About the Mission

Our goal is to use the law as a force for good. We not only want to achieve the best possible results for our clients, but we strive to create lasting change that makes our world a safer place.

Prepare Every Case for Trial

We believe when you lead with confidence, you've won before you started; therefore, by fighting from a position of strength, we know that cases are more likely to settle for a fair amount.

Personalized Approach

Because every case is unique, we never apply a one-size-fits-all approach. We take the time to know our clients and prepare personalized strategies that yield the greatest success.

35 Years of Experience

Since 1985, we have been helping ordinary citizens hold insurance companies and corporate wrongdoers accountable, while securing the compensation our clients deserve.
Our Awards & Accolades
Recognized as a Top-Tier Law Firm