Television and Movie Set Catastrophic Injury Attorneys in New Mexico
Advocating for Victims of TV and Movie Set Accidents
New Mexico's dusty desert landscapes are unmatched in mystique, often serving as the perfect backdrop for Westerns, science fiction, thrillers and anything and everything in between. And while the film industry brings thousands of jobs to the Land of Enchantment, when not done safely, it also brings the potential for serious, catastrophic injury when safety protocols are violated or not created.
At McGinn, Montoya, Love & Curry, we firmly believe that no one should be put in harm's way when they go to work and have fought tirelessly for safe workplaces. Negligence and recklessness can and does worm its way into all types of workplaces—TV and film sets included. If you or a loved one has been injured or killed in a TV and movie set accident, we will work tirelessly to get you the answers and compensation you and your family deserve.
Call (505) 405-4441 tobook a free consultation with our award-winning injury attorneys.
When TV and Film Set Accidents Result in Tragedy
At McGinn, Montoya, Love & Curry, we accept cases involving all types of television and movie set catastrophic injuries, such as:
Eye damage
Nerve damage
Psychological damage
Ear damage/ruptured ear drums
Broken/fractured bones
Traumatic brain injuries
Spinal cord injuries
Wrongful Death
Who Is Responsible for an Accident on Set?
Production companies, like any company, have a responsibility to provide a safe workplace for their employees, volunteers and contractors. There may be other liable parties involved and liable as well. Because every TV and film production and set up is different, it is best to consult an attorney about the accident that led to you or your loved one's injury or death.
McGinn, Montoya, Love & Curry will investigate the accident to determine what went wrong and who, in the law's eyes, is responsible. In a free consultation, we can also dive into the plethora of options most TV and film set accident victims have when holding the wrongdoers accountable. Based on how production funding works, there can be many ways of ensuring accountability.
Helping You Move Forward
At McGinn, Montoya, Love & Curry, we are known for obtaining justice for our clients in groundbreaking cases; since 1985, we have achieved some of the largest jury verdicts in the state of New Mexico. We are also known for changing dangerous practices to prevent the same tragedy from striking again. Accountability matters—and we know how to get it.
Unfortunately, many law firms don't investigate beyond the obvious. But we leave no stone unturned and are firmly committed to not only achieving justice, but also, in preventing the same needlessly tragedy from happening again. As accomplished trial lawyers, we are also able to expertly overcome barriers that may arise in and out of court.
Work with lawyers who will maximize your compensation, who will guide you down the path to justice, who will stop at nothing to advocate for you; work with McGinn, Montoya, Love & Curry.
When filming ends in tragedy for an actor, director, stuntman, cameraman, or anyone else on set, don't wait to contact our team.

Notable Case Results
Hundreds of Millions Recovered on Behalf of Our Clients
Medical Malpractice $67.3 Million

Wrongful Death $52 Million

Trucking Crash $18.9 Million

Medical Malpractice $9 Million

Medical Malpractice $7.8 Million

Wrongful Death $6 Million

Wrongful death $3.7 Million

Medical Device Defect $2 Million

Trucking Crash 8-Figure Settlement

Wrongful Death Amount is Confidential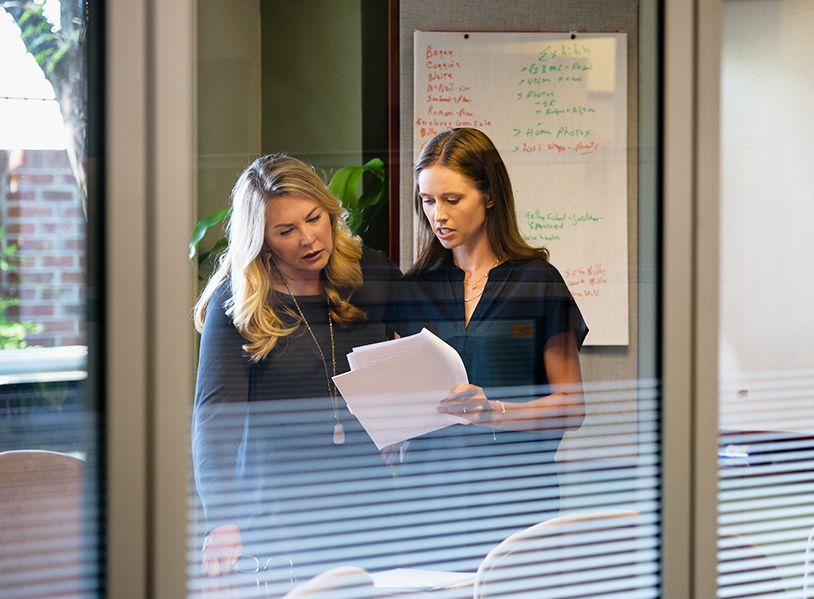 Determined to Make a Difference
Why McGinn, Montoya, Love & Curry?
It's All About the Mission

Our goal is to use the law as a force for good. We not only want to achieve the best possible results for our clients, but we strive to create lasting change that makes our world a safer place.

Prepare Every Case for Trial

We believe when you lead with confidence, you've won before you started; therefore, by fighting from a position of strength, we know that cases are more likely to settle for a fair amount.

Personalized Approach

Because every case is unique, we never apply a one-size-fits-all approach. We take the time to know our clients and prepare personalized strategies that yield the greatest success.

35 Years of Experience

Since 1985, we have been helping ordinary citizens hold insurance companies and corporate wrongdoers accountable, while securing the compensation our clients deserve.
Our Awards & Accolades
Recognized as a Top-Tier Law Firm