Premises Liability Attorneys in New Mexico
We Can Help You Find Justice After a Preventable Accident
The expectation of safety while on others' property often goes unnoticed until we are injured by hazardous conditions. However, for those who are hurt in this way, the law is on your side. We can help you learn about your right to compensation after an accident caused by someone else's failure to maintain their property.
Accidents like slip and falls can cause serious injuries that require expensive medical care and significant time off work for treatment. They can uproot your life and affect your loved ones as well. If you were injured because a property owner failed to make their ground safe for visitors, our team wants to help you file for the compensation you need to move forward.
McGinn, Montoya, Love & Curry has been fighting for the injured since 1985, and in that time, we have become known for providing strong representation that gets results. If you are considering filing a claim for your injuries, you need a team like ours on your side. We handle cases throughout New Mexico from our office in Albuquerque.
McGinn, Montoya, Love & Curry handles premises liability claims across New Mexico. Start yours by scheduling a free consultation. Call us at (505) 405-4441.
When You Can Make a Premises Liability Claim
While trespassers are typically not protected by New Mexico's premises liability laws, legal visitors to a property have the right to expect it has been maintained so it is safe for them. Dangerous conditions, whether obvious or not, must be remedied or warned about by the property owner.
Causes for property liability claims cover many hazards that may be present on private and commercial properties:
Balcony collapse
Dangerous snow and ice
Defective sidewalks
Dog bites
Electrocution
Falling objects
Fires
Insufficient lighting
Slippery surfaces
Toxic exposure
Unsafe staircases
You should note that, while a property owner is expected to keep premises in good repair, they may defend themselves by claiming they had no way of knowing the hazard existed. Having a strong investigative team on your side can help against such challenges to your claim.
A property owner is also responsible for foreseeing potential dangers to visitors. For instance, a poorly lit parking garage or gas station may seem an inviting opportunity for criminals. Anyone who was attacked or harmed on another's property should speak to our team about the possibility of making a negligent security claim.
How We Can Help
Our strong and experienced attorney team can help you maximize your compensation in a premises liability claim. From investigating your accident to taking care of paperwork to negotiating for a fair settlement, we are here for you. Especially for those who have suffered serious and life-changing injuries, winning fair compensation is essential to taking care of yourself and your loved ones.
You may be eligible to file for damages including:
Medical bills
Future medical needs
Loss of enjoyment of life
Increased risk of harm
Disfigurement
Disability
Pain and suffering
Lost income/wages
Related non-medical expenses
Right after a serious accident, it can be difficult to imagine all the changes you may find yourself facing. Insurance adjusters often try to use this to their advantage, offering settlements that are wildly unfair to injury victims. When you work with our team, you will also have access to medical consultants and care managers who can provide additional insights into what your future may bring and how much you should expect for your claim.

Notable Case Results
Hundreds of Millions Recovered on Behalf of Our Clients
Medical Malpractice $67.3 Million

Wrongful Death $52 Million

Trucking Crash $18.9 Million

Medical Malpractice $9 Million

Medical Malpractice $7.8 Million

Wrongful Death $6 Million

Wrongful death $3.7 Million

Medical Device Defect $2 Million

Trucking Crash 8-Figure Settlement

Wrongful Death Amount is Confidential We Fight on the Side of Justice
When a property owner fails to provide a safe domain for visitors, they should be held accountable. Dangerous conditions can lead to catastrophic injuries like traumatic brain injury (TBI) and spinal cord injury.
Even "less serious" injuries like broken bones or illness due to toxic exposure can disrupt someone's routine and introduce unexpected expenses. If you or a loved one has found yourself wondering what happens next after you were injured on someone else's property, we invite you to reach out for a free consultation.
Our attorneys have the skill and strength to represent you, no matter who you are filing a case against. We also bring care and compassion to every claim we work. After working with many clients in a similar position to yours, we understand you need all-around support as you determine your next steps. We pride ourselves on giving each client personal attention so they can find the best road forward.
Start your claim today by calling us at (505) 405-4441 for a free consultation. Our premises liability lawyers serve clients in Albuquerque and throughout New Mexico.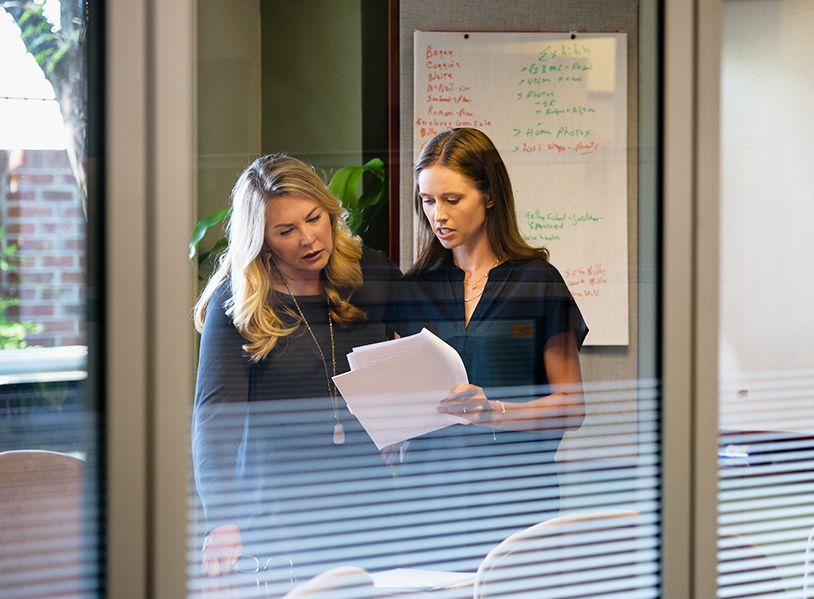 Determined to Make a Difference
Why McGinn, Montoya, Love & Curry?
It's All About the Mission

Our goal is to use the law as a force for good. We not only want to achieve the best possible results for our clients, but we strive to create lasting change that makes our world a safer place.

Prepare Every Case for Trial

We believe when you lead with confidence, you've won before you started; therefore, by fighting from a position of strength, we know that cases are more likely to settle for a fair amount.

Personalized Approach

Because every case is unique, we never apply a one-size-fits-all approach. We take the time to know our clients and prepare personalized strategies that yield the greatest success.

35 Years of Experience

Since 1985, we have been helping ordinary citizens hold insurance companies and corporate wrongdoers accountable, while securing the compensation our clients deserve.
Our Awards & Accolades
Recognized as a Top-Tier Law Firm