New Mexico Negligent Security Attorneys
Were You A Victim of Crime Due to Unsafe Property Conditions?
Being constantly vigilant for potential criminal activity is not habitual for most people, nor should it have to be. We trust in our society to keep us safe. However, certain conditions make it more likely innocent people will be attacked by criminals. Convenience stores and other retail establishments that have cash on hand or customers in the parking lot are likely to become targets for robbers, thieves, and rapists if security precautions are not in place.
Retail establishments and similar businesses have a duty to protect people by taking steps to prevent criminals from considering targeting their workers or clientele. Failure to do so gives crime victims who were targeted on their property the right to file for compensation. McGinn, Montoya, Love & Curry has been handling negligent security cases for over three decades. We are passionate about holding retailers accountable for lax security that invites crime and violence. Our team is determined not only to help crime victims receive compensation for their injuries and distress but also to make sure companies do their part to keep workers and customers safe. Reach out today if you think you may have a claim.
Schedule a free consultation with one of our supportive attorneys by calling (505) 405-4441. We are here to help crime victims in New Mexico fight for justice.
Why File a Negligent Security Case?
Luckily, experts in the retail industry have identified simple policies and technologies that are proven effective for keeping their workers and customers protected. But, when businesses do not put these policies and technologies into place, people onsite pay the price.
By 2005, working in a New Mexico retail store was rated among the most dangerous jobs in the state.
Consumers and workers who are put into dangerous situations by property owners' failure to protect them deserve justice. They also deserve a voice. When stories of preventable criminal activity are told, people speak up against business owners who are not doing their part to keep our communities safe. We are proud to partner with victims of these crimes that never should have happened. Helping them win compensation and bring attention to dangerous conditions is a reward of its own.
How Employers Can Increase the Safety of Their Premises
Some assaults at work are unpredictable events that could not have been prevented. In other cases, if an employer had taken measures to reduce the risk of harm to their personnel, the attack might have never happened. Such safety practices are widely known and easy to implement. Employers have a responsibility to protect workers by taking steps like:
Risk assessments of employees and work environment
Sufficient staff training (including, in some circumstances, training in control and restraint techniques)
Safety buildouts where appropriate (i.e., protective screens)
Maintaining proper staffing levels
Well-lit premises, inside and out
Security cameras prominent and monitoring the entire premises
Employee background checks
Regular employee reviews
Whether the violence is precipitated by a fellow worker or an outside offender, an injured employee always has the right to file for workers' compensation. In cases where an employer/property owner's disregard for worker safety goes beyond simple negligence, victims may also be able to file for damages. Being allowed to bring a claim may take extra work in this situation, but you can also ask for much more compensation to help with serious injuries. Our team can help you explore your options.
Fighting for Secure Workplaces in New Mexico
Assisting Advocates in Passing Safety Regulations
Committed to reducing the instances of crime and injury on retail properties, our attorneys volunteered time and resources in 2005 and 2006 to help pass pro-worker legislation. New Mexico convenience stores, among other important security precautions, are now required to have at least 2 workers on staff during the graveyard shift.
When the New Mexico Petroleum Association, the organization for convenience store owners, attempted to invalidate this important regulation, we volunteered as Amicus Curiae (friends of the court) to argue for it to be upheld. We won. The regulation remains the law of New Mexico.
Holding Negligent Company Owners Accountable in Court
V.G. v. Allsup's Convenience Stores
For 20 years, while amassing a fortune for the company owners, the Allsup's Convenience Store Corporation operated its string of gas station stores on a shoestring budget. For 20 years, the company owner would receive on his desk, on a nearly weekly basis, report after report of robberies and robbery attempts occurring in his stores. He refused to make changes, preferring instead to maximize profits for his family so they could buy racehorses and fund a lavish lifestyle.
Dozens of Allsup's workers lost their lives in this time, and another dozen were raped. Once, the company owner was personally asked by the family of a worker who was killed on the graveyard shift to please, in the future, always have two people working in the store. A few years later, the local chief of police, concerned by the abnormally high level of crime at Allsup's stores, contacted management and warned them that if they didn't improve security, someone would be killed.
Neither the individual plea nor the police warning changed the owners' minds. The chain continued to operate on a shoestring budget, leaving workers with virtually no security—no cameras, no guards, no co-worker on the graveyard shift. Routinely, only around half of the light bulbs in the parking lot were working.
When a young mother of three took a night job at an Allsup's store so she could study to be a teacher and take care of her kids during the day, she knew none of these things. On her third night working the graveyard shift, the store was targeted for robbery. The robber was disappointed when he netted less than $25, so he decided to take something else—the young woman. She was discovered the next afternoon in a field, stabbed to death.
After her murder, the chain was unwilling to assist the family beyond the meager payout available through workers' compensation, even denying help with funeral expenses. Despite the challenges that come with bringing a suit outside of the workers' compensation system, McGinn, Montoya, Love & Curry proceeded with the case through a two-week trial and settled just as the jury was about to enter a $50 million verdict for the young woman's family. The memory of this wonderful mother and incredible family remains an inspiration to our lawyers at McGinn, Montoya, Love & Curry to this day and always.
M.R. v. Sara Lee Corporation
When a 50-year-old woman working in a day-old bakery store asked her manager for temporary help to fill in while her co-worker took a vacation, she was told that if she was not willing to work alone, her colleague's time off would be canceled. Unwilling to be the cause of a missed vacation, M.R. worked alone in the store which, predictably—with cash on hand and only one worker—was targeted for robbery.
The unsophisticated 15-year-old robber, who had never committed such an act before, later admitted that even the smallest amount of deterrence such as another worker, video cameras, or even windows, would have stopped him from committing the crime. The day before the robbery, he had visited and noticed the utter absence of security in the store. When he returned, hoping to walk away with enough money to pay his rent, the theft spun out of control. M.R. was beaten and terribly injured.
Workers' compensation was woefully insufficient to cover M.R.'s debilitating injuries that left her in a wheelchair for the rest of her life. We helped her file a suit against the parent corporation that had crafted the insufficient policies and skimmed store profits to build a monolithic corporate headquarters out of state. With our advocacy, M.R. received the settlement she needed to take care of her future needs.
Lawrence v. Hollywood Video Corp. And NM Dept. Of Corrections, NM 2 d Jud. Dist. Ct., CV 96-04039.
When George and Pauline McDougall went to the video store to pick their grandson up after his late-night shift, they had no idea that the store had been the target of crime and threats for months prior, or that the staff had been asking the company for security guards to protect them.
On this particular night, two felons on community release decided to take advantage of the large amount of cash on hand at the end of the day. They stole the cash, killed the three clerks inside, and abducted the McDougalls from the parking lot, murdering them in the East Mountains.
The case against Hollywood Video Corp. settled and our firm was successful in defeating motions to dismiss filed by the state corrections department. Eventually, the state also settled with the McDougall family.
Eldridge v. Circle K Corp., 123 N.M. 145 (Ct. App. 1997).
New father Paul Sedillo was shot and killed while working alone on the graveyard shift at a Circle K convenience store with inadequate security. On our urging, the New Mexico Court of Appeals held that his surviving daughter would be allowed to bring a claim for his death outside the workers' compensation system in state district court.
The case settled for enough to take care of his daughter for the rest of her life. Paul's family later testified before the New Mexico Environmental Improvement Board and helped establish statewide regulations requiring convenience stores to enact numerous security measures, including having two clerks on the graveyard shift or placing lone clerks behind bulletproof enclosures.
Rummel v. Lexington Ins. Co., Et Al., 123 N.M. 752 (1997).
As a clerk for Circle K convenience store, Ken Rummel was required to work alone on the graveyard shift and attempt to apprehend any shoplifters. Three shoplifters beat him and kicked him in the face until he suffered extensive brain damage. After the jury gave Mr. Rummel a substantial verdict against Circle K, including punitive damages, we continued our fight by suing Circle K's insurance carrier for bad faith. By failing to make a reasonable settlement offer before trial, the insurer did not do its duty to protect the company.

Notable Case Results
Hundreds of Millions Recovered on Behalf of Our Clients
Medical Malpractice $67.3 Million

Wrongful Death $52 Million

Trucking Crash $18.9 Million

Medical Malpractice $9 Million

Medical Malpractice $7.8 Million

Wrongful Death $6 Million

Wrongful death $3.7 Million

Medical Device Defect $2 Million

Trucking Crash 8-Figure Settlement

Wrongful Death Amount is Confidential Our Attorneys Are Ready to Help You
If you have been harmed by a business that failed to address predictable dangers on its premises, McGinn, Montoya, Love & Curry is here for you. Our attorneys fight cases we believe in, taking on negligent companies that turn a blind eye to injuries caused by their cost-cutting or dismissal of valid concerns.
We understand the difficulty crime victims face when considering their future and are here to offer full support. After being injured due to negligent security, you deserve justice in the form of compensation and a chance to hold wrongdoers accountable. Let us help you get your case started—reach out today for a free consultation.
Call McGinn, Montoya, Love & Curry at (505) 405-4441 to speak with one of our New Mexico negligent security attorneys. We have the experience you need in the fight for justice.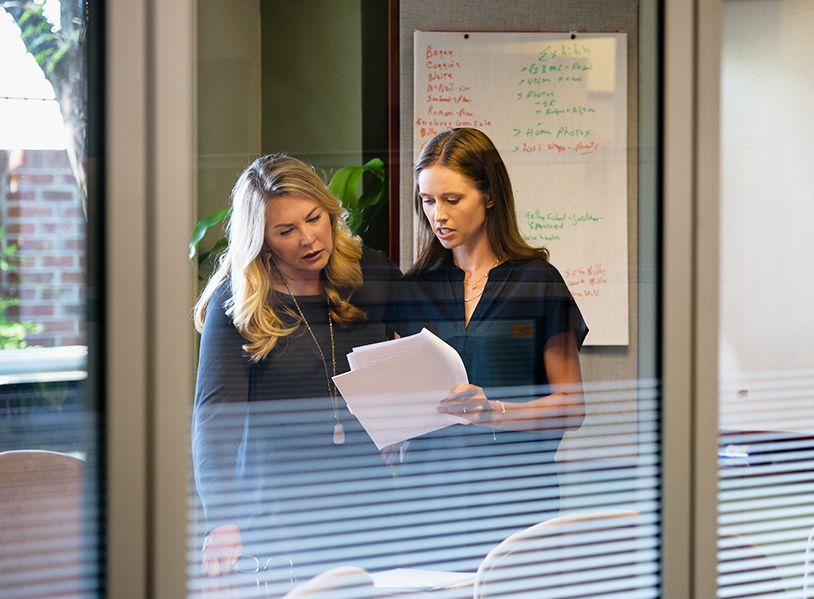 Determined to Make a Difference
Why McGinn, Montoya, Love & Curry?
It's All About the Mission

Our goal is to use the law as a force for good. We not only want to achieve the best possible results for our clients, but we strive to create lasting change that makes our world a safer place.

Prepare Every Case for Trial

We believe when you lead with confidence, you've won before you started; therefore, by fighting from a position of strength, we know that cases are more likely to settle for a fair amount.

Personalized Approach

Because every case is unique, we never apply a one-size-fits-all approach. We take the time to know our clients and prepare personalized strategies that yield the greatest success.

35 Years of Experience

Since 1985, we have been helping ordinary citizens hold insurance companies and corporate wrongdoers accountable, while securing the compensation our clients deserve.
Our Awards & Accolades
Recognized as a Top-Tier Law Firm