New Mexico Birth Injury Lawyers
Fighting for Families Dealing with the Effects of Birth Trauma
Each year, thousands of parents who are excited to bring a new child into the world face the unexpected tragedy of learning their baby suffered needless and preventable injuries during birth. Without proper communication from all healthcare team members, sufficient staffing, and proper training to monitor and respond to signs of distress, preventable but devastating injuries can occur.
Learning your baby has suffered a birth injury is devastating. We understand you want to do everything you can to give your child the best life possible. A birth injury may require ongoing treatment and even permanent assistance, which for many families is out of reach. We want you to know that if you are in this situation, there is something you can do.
If your family is struggling to understand how this happened to you, you may be able to file a birth injury claim. McGinn, Montoya, Love & Curry partners with medical experts to investigate how the injuries occurred and to hold the corporations and individuals who caused the injuries accountable. We care about the families we work with and do everything in our power to help them find justice.
Based in Albuquerque, our birth injury lawyers offer free consultations to families anywhere in New Mexico. Call us at (505) 405-4441 to schedule yours. Se habla español.
What is a Birth Injury?
A birth injury refers to any physical harm or trauma that occurs to a newborn baby during the process of childbirth or immediately after delivery. These injuries can vary in severity and may affect different parts of the baby's body. Birth injuries can be distressing for both the baby and their parents, and they can have long-term consequences, ranging from temporary discomfort to permanent disability.
How Do Birth Injuries Happen?
Birth injuries happen when signs of distress are not promptly or properly addressed. In some cases, a doctor may need to intervene to ensure a baby is delivered safely—in others, an unnecessary or overly forceful intervention can seriously injure the baby.
Factors that often correlate with birth injury include:
Difficult or Prolonged Labor: A long or difficult labor can increase the risk of birth injuries. When labor is prolonged, it can lead to complications such as oxygen deprivation, fetal distress, and increased pressure on the baby's head and body.
Abnormal Presentation: The position of the baby during birth is crucial. Babies are typically delivered headfirst, but in some cases, they may present in a breech position (feet or buttocks first) or in a transverse position (sideways). Abnormal presentations can make delivery more challenging and increase the risk of birth injuries.
Large Baby (Macrosomia): Babies born significantly larger than average (macrosomia) may be at higher risk of birth injuries, especially if the mother has gestational diabetes. A large baby can be difficult to deliver through the birth canal, potentially leading to trauma or injury during delivery.
Maternal Pelvic Structure: The shape and size of the mother's pelvis can influence the ease of delivery. If the pelvis is too narrow or an unusual shape, it may hinder the baby's passage through the birth canal, increasing the risk of injury.
Medical Interventions: While medical interventions such as forceps, vacuum extraction, and cesarean sections are often necessary and safe, they can also carry risks if not performed correctly. Mishandling or improper use of these tools can lead to birth injuries.
Fetal Distress: When a baby experiences distress during labor, it may be due to a variety of factors, including problems with the umbilical cord, a drop in oxygen levels, or other complications. Fetal distress can necessitate an emergency delivery, increasing the risk of injury.
Shoulder Dystocia: This occurs when the baby's head passes through the birth canal, but the shoulders become stuck behind the mother's pelvic bone. It can lead to birth injuries, including brachial plexus injuries and fractures.
Infections and Medical Conditions: In some cases, infections or medical conditions affecting the mother or baby during pregnancy can increase the risk of birth injuries. Conditions like gestational diabetes, preeclampsia, and infections can impact fetal development and health.
Medication and Anesthesia: The administration of medications or anesthesia during labor and delivery can affect the baby's condition. Improper dosage or reactions to medications can lead to complications and potential injuries.
Healthcare Provider Error or Negligence: Medical errors, including misdiagnoses, inadequate monitoring, and poor decision-making during labor and delivery, can result in birth injuries. Negligent actions or failure to respond promptly to complications can have serious consequences.
Birth Injury Claims We Can Help With
With our extensive experience, our team is prepared to handle even the most complex birth injuries.
Call us if you are considering making a claim for:
Birth asphyxia
Brain bleed
Failure to perform a necessary C-section
Fetal monitoring failure
Forceps and vacuum extraction injury
Placental abruption
Umbilical cord compression
If your baby has suffered any birth injury, our attorneys may be able to help. We offer free consultations in which you can tell your story and learn what we can do for you.
Why Make a Birth Injury or Trauma Claim?
Raising any child requires time, effort, and money. Finances are not a topic you can ignore when your baby was seriously and needlessly injured during childbirth. They may need treatment like:
Extended intensive care
Neurologic care
Surgery
Baclofen pumps
24/7 nursing care
Lifelong physical, occupational or speech therapy
Surgery or multiple surgeries over time
Assistive devices
Sadly, many serious forms of birth injury will affect a child for the rest of his or her life. Some, like HIE, can continue to cause complications as your child ages. By making a birth injury claim, you may be able to receive compensation to cover the related medical expenses and hardships your family is now facing and will continue to face for years and years to come. We want to help you make sure your child has the best care—and life—possible.
Birth injury claims can also hold wrongdoers accountable. When you file a malpractice claim, you are not only finding justice for your loved one and family. By seeking justice, you help to prevent others from suffering the same way you have. Malpractice claims our team has litigated in the past have changed facility processes and protocols, training, supervision, and response times for the better. There is an opportunity to make a difference in your life and community if your child suffered a birth injury.
How to Prove a Birth Injury Claim in New Mexico
Proving medical malpractice in a birth injury claim in New Mexico, as in most jurisdictions, generally requires demonstrating four key elements:
Duty of Care: To establish medical malpractice, you must first establish that a doctor or healthcare provider owed a duty of care to the patient. In a birth injury claim, this typically means showing that the healthcare provider had a professional obligation to provide competent care to the mother and the baby during pregnancy, labor, and delivery.
Breach of Standard of Care: You must then demonstrate that the healthcare provider breached the standard of care that is expected in the medical community. This involves showing that the provider's actions or omissions deviated from what a reasonably skilled and prudent healthcare provider would have done in similar circumstances. Expert testimony is often crucial in establishing this element, as medical standards can be highly specialized and complex.
Causation: To succeed in a birth injury claim, you need to establish a direct link between the healthcare provider's breach of the standard of care and the birth injury. You must prove that the provider's actions or negligence were a substantial cause of the injury. This can be challenging, as it requires demonstrating that the injury would not have occurred "but for" the provider's negligence.
Damages: Finally, you must prove that the birth injury resulted in actual damages, which can include medical expenses, pain and suffering, disability, emotional distress, and other losses. The damages must be both real and quantifiable.

Notable Case Results
Hundreds of Millions Recovered on Behalf of Our Clients
Medical Malpractice $67.3 Million

Wrongful Death $52 Million

Trucking Crash $18.9 Million

Medical Malpractice $9 Million

Medical Malpractice $7.8 Million

Wrongful Death $6 Million

Wrongful death $3.7 Million

Medical Device Defect $2 Million

Trucking Crash 8-Figure Settlement

Wrongful Death Amount is Confidential We're Here to Fight for Families Like Yours
Birth injury cases are often complex, but our team is ready to handle them. We are battle-tested lawyers who have the technical background to understand the intricacies of birth injury law and the resources to fully investigate each claim and collaborate with experts as we build your case.
We know your family needs more than just a lawyer to help after a birth injury. You need a strong advocate and a team that will do everything possible to support you. We take the time to learn your story and your goals and create a legal strategy based on your needs. Our compassionate attorneys are waiting to help you.
Reach out to McGinn, Montoya, Love & Curry at (505) 405-4441 to schedule your free consultation. We've been serving New Mexico birth injury victims since 1985 from our office in Albuquerque.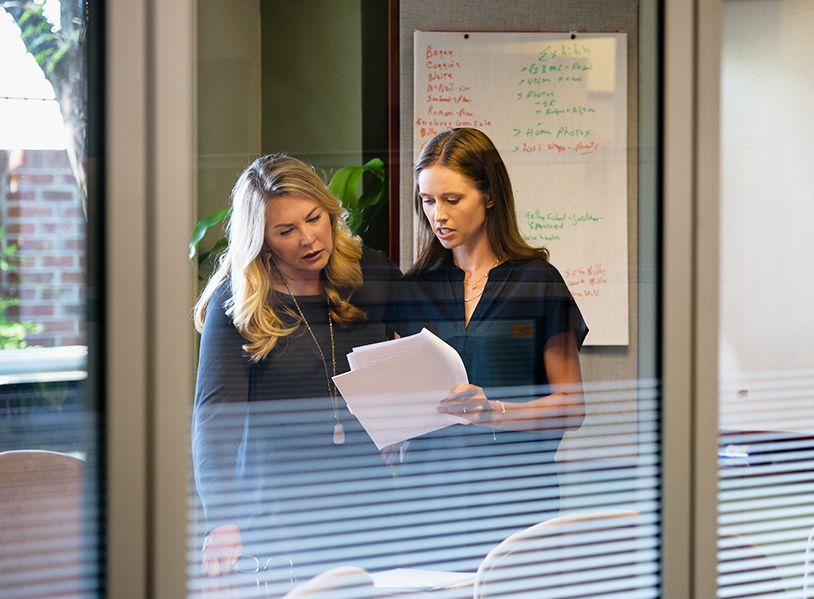 Determined to Make a Difference
Why McGinn, Montoya, Love & Curry?
It's All About the Mission

Our goal is to use the law as a force for good. We not only want to achieve the best possible results for our clients, but we strive to create lasting change that makes our world a safer place.

Prepare Every Case for Trial

We believe when you lead with confidence, you've won before you started; therefore, by fighting from a position of strength, we know that cases are more likely to settle for a fair amount.

Personalized Approach

Because every case is unique, we never apply a one-size-fits-all approach. We take the time to know our clients and prepare personalized strategies that yield the greatest success.

35 Years of Experience

Since 1985, we have been helping ordinary citizens hold insurance companies and corporate wrongdoers accountable, while securing the compensation our clients deserve.
Our Awards & Accolades
Recognized as a Top-Tier Law Firm