Shoulder Dystocia Lawyers in New Mexico
If Your Care Team Failed to Respond to Shoulder Dystocia, We Can Help You File a Claim for Your Child's Injuries
Even when a mother and her fetus are both in perfect health, dangerous complications like shoulder dystocia can put an infant at risk of developing nerve damage or even brain injury during labor and delivery.
For anyone whose child suffered nerve injury during childbirth, our experienced team is here to help. When standards are violated and your baby suffers as a result, we can help hold wrongdoers accountable. Ask us about your rights if you or your infant was seriously injured by an improper response to shoulder dystocia.
McGinn, Montoya, Love & Curry has been serving New Mexico families since 1985. Call (505) 405-4441 for a free consultation with one of our skilled shoulder dystocia attorneys.
Shoulder Dystocia and Its Complications
Improper handling of shoulder dystocia can result in a need for future treatment and can cause permanent disabilities.
Delayed Delivery Can Lead to Hypoxia
Shoulder dystocia prolongs labor, which increases the chance an infant will not receive the oxygen he or she needs. If oxygen deprivation lasts for more than a few minutes, the baby is likely to suffer hypoxic-ischemic encephalopathy (HIE). This serious and irreversible brain damage is often linked with cerebral palsy and other motor and cognitive disabilities. HIE can also result in death.
Excess Force Can Injure a Fetus
Whether providers use their hands or tools like forceps or a vacuum to assist in a difficult delivery, the utmost caution must be used. Otherwise, preventable and devastating injuries can result, including brachial plexus palsy. When the baby's head and shoulder are forced too far in opposite directions, the nerve group in that area will suffer a strain or even tear. Injured infants can have trouble moving the affected arm, lack grip strength, and may exhibit numbness. Brachial plexus injury can affect only the shoulder and upper part of the arm (Erb's palsy) or extend to the wrist and hand (Klumpke's palsy). Many times, these injuries can require surgery, and, in some cases, they can be permanent.
Newborns also have fragile skeletons, and the clavicle and humerus may be fractured when a doctor tries to force a baby's shoulder past its obstruction.
Making a Claim After Shoulder Dystocia
Your child's injuries and the resulting emotional distress can strain your family's finances and trouble your family in other ways. Some costs associated with shoulder dystocia are:
Medical bills
Future medical care
Parental loss of wages
Accommodations for your child
Disability, in case the injury cannot be fully treated
Our attorneys can help you determine the extent of the damages after learning your story. Other damages that may be available include pain and suffering, emotional distress, damages related to disfigurement, loss of household services, and damages related to the nature, extent, and duration of the injuries.
Along with the means to support your child—and equally important as a factor—a claim can help you find justice. Filing a shoulder dystocia claim can help you get answers about what happened to your child. It can also result in changes in staffing, procedures, protocols, and policies that can help protect other children.

Notable Case Results
Hundreds of Millions Recovered on Behalf of Our Clients
Medical Malpractice $67.3 Million

Wrongful Death $52 Million

Trucking Crash $18.9 Million

Medical Malpractice $9 Million

Medical Malpractice $7.8 Million

Wrongful Death $6 Million

Wrongful death $3.7 Million

Medical Device Defect $2 Million

Trucking Crash 8-Figure Settlement

Wrongful Death Amount is Confidential We Are Ready to Fight for Your Family
McGinn, Montoya, Love & Curry brings the perfect union of strength and compassion to each case we take. We want to help you and your family achieve justice, and we are ready to fight for it. If you are not sure where to turn after learning your baby was injured during childbirth, we are here to support you and help you find a way forward.
The work we have done for families and patients has earned our firm a stellar reputation, which is supported by our track record. We take only a few cases at a time so we can provide the support and attention each client needs. If you are considering whether to file a case, we invite you to contact our firm for a free consultation. Our experienced lawyers are here to let you know what your rights and options are.
Call us at (505) 405-4441 to speak with one of our skilled shoulder dystocia attorneys. Our team is here to help you and your family through this difficult time.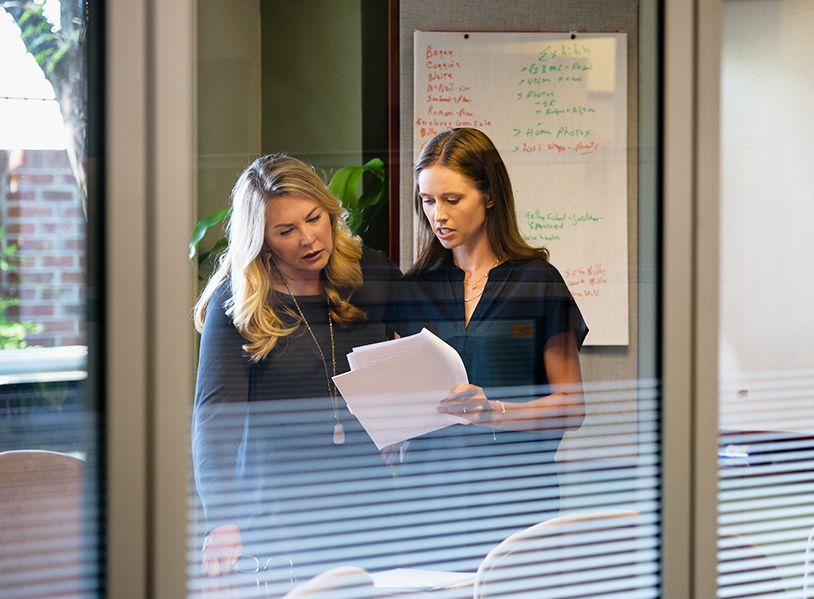 Determined to Make a Difference
Why McGinn, Montoya, Love & Curry?
It's All About the Mission

Our goal is to use the law as a force for good. We not only want to achieve the best possible results for our clients, but we strive to create lasting change that makes our world a safer place.

Prepare Every Case for Trial

We believe when you lead with confidence, you've won before you started; therefore, by fighting from a position of strength, we know that cases are more likely to settle for a fair amount.

Personalized Approach

Because every case is unique, we never apply a one-size-fits-all approach. We take the time to know our clients and prepare personalized strategies that yield the greatest success.

35 Years of Experience

Since 1985, we have been helping ordinary citizens hold insurance companies and corporate wrongdoers accountable, while securing the compensation our clients deserve.
Our Awards & Accolades
Recognized as a Top-Tier Law Firm