New Mexico Motorcycle Accident Attorneys
We Represent Bikers Injured by Negligent Drivers
Research shows two-vehicle accidents involving motorcycles are more likely to be caused by the other driver. However, the motorcyclist is more likely to suffer serious injury. When laid up after an accident, you may find yourself wondering how to deal with mounting medical bills and other expenses while your paycheck is on hold. Our attorneys can help you find the answer.
Anyone injured by a negligent driver has the right to file a claim for compensation and should absolutely do so. Insurers may be bound to pay for their clients' accidents, but that does not mean they will readily offer a fair settlement. You only have one chance to receive compensation, meaning it is important to get it right. Beyond that, filing a claim allows you to hold the other party accountable for the harm they have done. Our team is here when you are ready to fight for justice.
If you are considering whether a motorcycle accident claim is right for you, call McGinn, Montoya, Love & Curry at (505) 405-4441. We offer free consultations with our motorcycle accident lawyers and handle cases throughout New Mexico from our office in Albuquerque. Call now to get started.
Injuries in Motorcycle Accidents
The only protective gear bikers have is what they can wear on their body, and in high-speed impacts, even the best helmet will only do so much good. Nearly 100,000 Americans are injured in motorcycle accidents each year; many require extensive treatment and end up missing work.
You should consider working with a lawyer to file a claim if you have experienced a severe injury like:
Bone crush injury
Fractures
Loss of limb
Catastrophic injuries or wrongful deaths caused by motorcycle accidents can overturn your life completely. From new medical needs to difficulties performing tasks that were previously automatic, the recovery process is physically and emotionally taxing. For those who lost a loved one, there are no words to describe how grief can strain your ability to keep up with everyday necessities. Additionally, you may face more upheaval if the accident injured someone who was a provider in your household.
Your injury claim should consider all these factors. We understand how difficult it can be to think about your future when a tragic accident has changed its path completely. However, planning ahead is an essential part of settlement negotiation. You deserve compensation for every hardship you have already suffered as well as challenges the future may bring.
What Damages Can You Recover in a Motorcycle Accident Claim?
In a motorcycle accident claim, the damages that can be recovered typically fall into two main categories: economic damages and non-economic damages.
Economic Damages:

Medical expenses: This includes costs for hospitalization, surgeries, medications, rehabilitation, and any other necessary medical treatments related to the accident.
Lost wages: If the accident caused you to miss work and resulted in a loss of income, you may be entitled to compensation for the wages you would have earned.
Property damage: This includes the cost of repairing or replacing your damaged motorcycle and any other property that was damaged in the accident.
Future expenses: If the accident results in long-term or permanent injuries, you may be eligible to recover damages for future medical treatment, ongoing care, and loss of earning capacity.

Non-economic Damages:

Pain and suffering: Compensation for physical pain, emotional distress, and the overall impact the accident has had on your quality of life.
Loss of enjoyment: Compensation for the loss of ability to participate in activities or hobbies you enjoyed prior to the accident.
Loss of consortium: Damages awarded to a spouse or family member for the loss of companionship, support, or intimacy due to the accident.
The specific amount of damages you may be able to recover in a motorcycle accident lawsuit depends on the circumstances of the accident, the extent of your injuries, and other factors. Consulting with a knowledgeable New Mexico motorcycle accident attorney can help you understand the potential value of your claim and guide you through the legal process.
Why Work with a Motorcycle Accident Lawyer?
If you were in an accident caused by someone else, their insurance is obligated to pay for your damages. However, calculating damages is not something that can be done by pulling up your hospital bills and your phone's calculator. They often extend much beyond the initial recovery period and encompass additional expenses that are adjacent to your care. Doing your own work to determine how much your settlement should be matters because an insurer is unlikely to be forthcoming with the true extent of your needs.
Especially when it comes to catastrophic injuries or wrongful death, insurance companies are more likely to follow the rule of the law than its spirit. Thanks to our state's pure comparative fault rule, if the insurance company can blame any part of the accident on you, they can legally reduce their settlement by an equal percentage. That means they are likely to send investigators to the scene of the accident and ask probing questions designed to confuse you into saying something they can use against you.
A lawyer can assist you in fighting these tactics and provide a professional team that is on your side. We are skilled investigators and, with over 30 years of experience helping victims in Albuquerque and throughout New Mexico, know how to negotiate with insurers without giving up an inch. Our team is not afraid to take a case to trial, and we make that clear to let insurers know how serious we are. Your future is important. Make sure the attorneys you partner with are serious about helping meet your needs.

Notable Case Results
Hundreds of Millions Recovered on Behalf of Our Clients
Medical Malpractice $67.3 Million

Wrongful Death $52 Million

Trucking Crash $18.9 Million

Medical Malpractice $9 Million

Medical Malpractice $7.8 Million

Wrongful Death $6 Million

Wrongful death $3.7 Million

Medical Device Defect $2 Million

Trucking Crash 8-Figure Settlement

Wrongful Death Amount is Confidential Call Our New Mexico Team for Help
After a serious accident, you need to focus on your recovery, not endless calls and paperwork for your insurance claim. Our team is here to provide the legal support you need. You deserve justice, including a fair settlement, and with us by your side, you can fight for it.
Our attorneys are nationally recognized, award-winning litigators, but we are dedicated to serving our local community. Above all, we care about doing the right thing. Reach out to us if you need legal representation after a serious accident.
Call our New Mexico motorcycle accident attorneys at (505) 405-4441 to schedule a free consultation with our team. We combine strength and compassion as we pursue results for each client.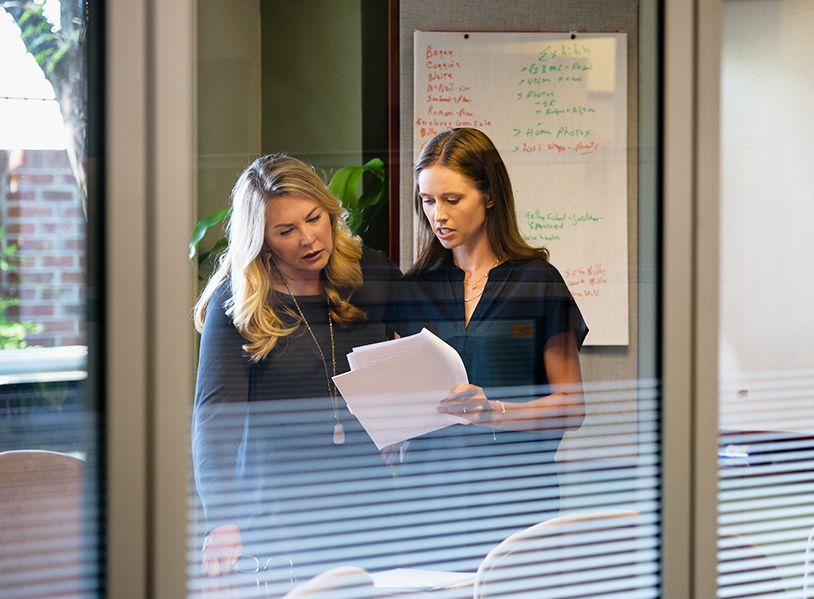 Determined to Make a Difference
Why McGinn, Montoya, Love & Curry?
It's All About the Mission

Our goal is to use the law as a force for good. We not only want to achieve the best possible results for our clients, but we strive to create lasting change that makes our world a safer place.

Prepare Every Case for Trial

We believe when you lead with confidence, you've won before you started; therefore, by fighting from a position of strength, we know that cases are more likely to settle for a fair amount.

Personalized Approach

Because every case is unique, we never apply a one-size-fits-all approach. We take the time to know our clients and prepare personalized strategies that yield the greatest success.

35 Years of Experience

Since 1985, we have been helping ordinary citizens hold insurance companies and corporate wrongdoers accountable, while securing the compensation our clients deserve.
Our Awards & Accolades
Recognized as a Top-Tier Law Firm