New Mexico Medical Malpractice Lawyers
We Hold Hospital Operators Responsible for Putting Profits Before Patient Safety
Hospitals are the front line of medical care for our communities. They are the first place most of us go when we are critically ill or experiencing the first symptoms of what may be a serious disease or injury.
When we take our loved ones to the hospital, we have the right to expect they will be given safe, effective care. We rely on hospitals and the doctors they hire as experts to order appropriate tests and closely care for our loved ones until they can rule out the most dangerous, life-threatening conditions or diagnose them and treat them aggressively. If a patient is instead neglected or harmed by systemic failures and/or improper care, they may be eligible to file a medical malpractice claim.
Why Choose Our Medical Malpractice Lawyers in Albuquerque
At McGinn, Montoya, Love & Curry, we hold hospitals, the corporations that run them, and other medical providers accountable when they use dangerous systems that put patients' lives at risk. You can count on our highly skilled New Mexico medical malpractice lawyers and medical experts to review your claim with the future in mind. We will carefully and thoroughly prepare your case and work diligently so you can hold accountable those who caused your injuries or a loved one's death.
Call McGinn, Montoya, Love & Curry to schedule a free consultation with one of our medical malpractice attorneys. We serve clients across New Mexico—call us at (505) 405-4441 to see how we can help you.
What is Medical Malpractice?
Medical malpractice refers to any situation where a patient is injured because of negligent or reckless care, whether individual practitioners or the companies that run hospitals are at fault. Today, we are finding that more and more injuries and deaths caused by improper medical care happen because these facilities are operated by out-of-state corporations that choose not to have the necessary systems, policies, and procedures in place to ensure New Mexicans' safety.
Types of Medical Malpractice Claims
We are available to handle the following types of medical malpractice cases, among others:
Failure to diagnose critical conditions
Delayed diagnosis or treatment
Misdiagnosis
Surgical errors
Pathology errors
Radiology errors
Nursing errors
Emergency room negligence
Medication errors
Injuries due to understaffing
If your health care provider violated the standard of care and their conduct resulted in injury or death, you may have grounds for a case. When considering a medical malpractice complaint, it's important to determine whether your or your loved one's injuries were preventable with the right treatment. You should also keep in mind that a claim can help you find justice and stop wrongdoers from hurting anyone else.
How We Can Help Identify Medical Malpractice
If you received subpar medical care, you may be questioning whether or not you have grounds to take legal action. The healthcare provider's actions must meet certain conditions to be considered malpractice. Because it is your right to receive medical care that is thorough, timely, and customized to your needs, you should take a closer look at what has happened.
Generally speaking, in order to be considered malpractice, the incident has to meet certain criteria:
Your doctor was negligent, or fell below the required standard of care.

You suffered unnecessary pain, injury, or illness.

Your doctor's negligence was the cause of your injuries.
If you have evidence to prove these points, you may have enough to confront a doctor. No one should endure physical and emotional distress from the very people meant to help us. The laws around medical malpractice exist to protect you if you are wronged. However, filing a medical malpractice claim is a complex process that requires substantial preparation and a knowledgeable team. You can be confident McGinn, Montoya, Love & Curry has the resources to investigate your case.
Finding evidence of medical malpractice involves:
Requesting and examining medical records
Seeking a second opinion from another doctor
Reaching out to medical experts for their opinion on what the standard of care should be in any given situation
Looking at facility policies and practices to determine if they were safe and designed based on the needs of patients
We work with medical experts who thoroughly analyze all of our cases and help us understand more about the form and cause of the negligence involved. As one of New Mexico's best-known medical malpractice firms, we have strong relationships with medical professionals throughout the country. Let our medical malpractice lawyers help protect your rights.
What is the Statute of Limitations for Medical Malpractice Claims in New Mexico?
The medical malpractice statute of limitations in New Mexico, is three years from the date of the malpractice to file a claim in court. If you fail to file your claim within that time frame than you may use your right to do so. When system-level negligence injures you or a loved one, our team can help. Share your story with us today to learn more about your legal rights!
Was It Medical Malpractice or Just a Bad Outcome?
Everyone who goes through a medical procedure of any kind hopes that it goes well. However, there are always risks. There is always the possibility of a bad outcome. A bad outcome does not necessarily mean that the doctor did anything wrong. Despite the best efforts of those involved, it is still possible for a medical procedure to turn out poorly. That being said, patients always have the right to ask questions. They have the right to be told what happened and why.
First, it is important to understand what medical malpractice is. Medical malpractice is when a bad outcome is the result of someone's failure to adhere to the standard of care. In basic terms, if a medical professional did something they should not have done and it results in harm to the patient, it is likely medical malpractice.
Signs That Malpractice May Have Occurred
Perhaps the most glaring sign that something is wrong is a reluctance to answer questions or provide information. Is a medical professional being elusive? Have they failed to provide documentation? Does it seem like they are hiding something?
Another sign is when the answers that are given are contradictory. For example, if a nurse provides one answer and a doctor says something different, there may be something wrong. If the documentation provided seems incomplete or possibly even tampered with, that may be an indication that medical negligence was involved.
If another medical professional makes a statement that something was perhaps done improperly, that is a clear sign to take further steps to learn more about what happened. If you are told not to talk to a lawyer about the situation, that should also send up a red flag. This might be a very good reason for you to contact a medical malpractice lawyer immediately.
Even when medical professionals do everything right, it can be challenging to understand exactly what they did after listening to medical jargon and reading highly specialized documentation. Just remember that, as a patient, no matter what happened, you have the right to know, and having an experienced attorney by your side can be invaluable at this time.

Notable Case Results
Hundreds of Millions Recovered on Behalf of Our Clients
Medical Malpractice $67.3 Million

Wrongful Death $52 Million

Trucking Crash $18.9 Million

Medical Malpractice $9 Million

Medical Malpractice $7.8 Million

Wrongful Death $6 Million

Wrongful death $3.7 Million

Medical Device Defect $2 Million

Trucking Crash 8-Figure Settlement

Wrongful Death Amount is Confidential
Finding Justice After Medical Malpractice
We know how difficult it is to learn you or a loved one suffered needlessly because those you trusted did not provide safe care. We want to help you find justice if this has happened to you or your loved one. Bringing a medical malpractice claim is about more than receiving the compensation you need for your treatment and other damages. It is also about preventing unsafe practices from harming others in the future.
Our medical malpractice cases have made a real difference for families by giving them the means to access the treatment and support they now need through no fault of their own. We also work tirelessly to ensure that our cases make a real difference in New Mexico by changing unsafe policies, inadequate or insufficient training, , regulations, and even legal precedents. McGinn, Montoya, Love & Curry cares about making the world a better and safer place for everyone. If there is anything we can do to help you find justice after an act of medical malpractice, please reach out to us today.
From our Albuquerque office, we serve clients throughout New Mexico. Reach out to us today by calling (505) 405-4441 for a free consultation with one of our medical malpractice attorneys. Se habla español.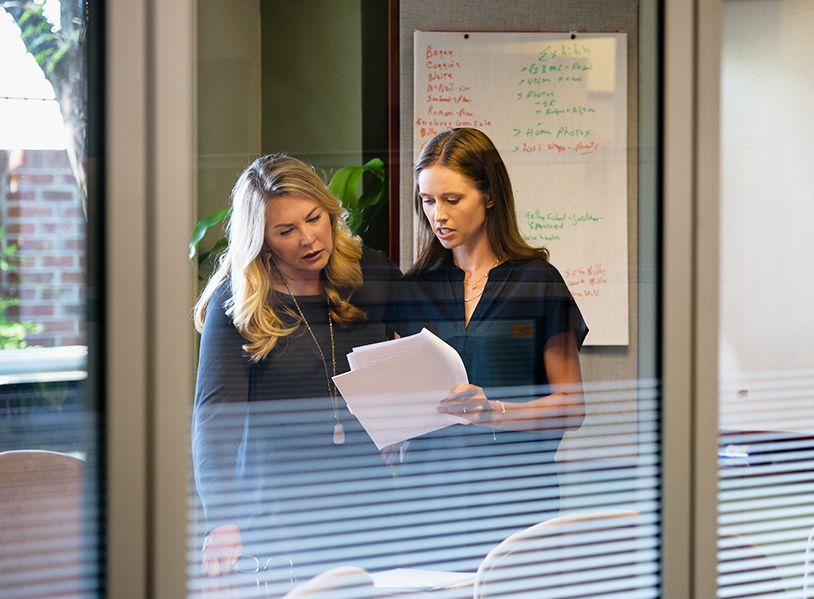 Determined to Make a Difference
Why McGinn, Montoya, Love & Curry?
It's All About the Mission

Our goal is to use the law as a force for good. We not only want to achieve the best possible results for our clients, but we strive to create lasting change that makes our world a safer place.

Prepare Every Case for Trial

We believe when you lead with confidence, you've won before you started; therefore, by fighting from a position of strength, we know that cases are more likely to settle for a fair amount.

Personalized Approach

Because every case is unique, we never apply a one-size-fits-all approach. We take the time to know our clients and prepare personalized strategies that yield the greatest success.

35 Years of Experience

Since 1985, we have been helping ordinary citizens hold insurance companies and corporate wrongdoers accountable, while securing the compensation our clients deserve.
Our Awards & Accolades
Recognized as a Top-Tier Law Firm