New Mexico Wrongful Death Attorneys
Supporting Those Who Have Lost Loved Ones to Others' Negligence or Irresponsibility
For many, losing a family member makes the rest of life appear to be on hold. Grief is neither manageable nor predictable. When your loved one was killed by a car accident, a defective product, or another preventable incident caused by someone else, anger and other tough emotions may surface as well. Our team helps people in this situation find a sense of comfort in the knowledge they can pursue justice for their loved one.
Filing a wrongful death suit against the person or company responsible for your loss means a chance to hold them accountable. You can make sure your story is heard and the hardship you are now facing is recognized. We can also help you request financial compensation to provide a safety net as you find your way forward.
McGinn, Montoya, Love & Curry is known for supporting the injured as they seek justice against insurers, medical facilities, large corporations, and other major opponents. Our skilled litigators have been serving New Mexico for over 35 years, trying cases that have garnered public attention and changed laws. If you are looking for a strong legal team to fight alongside you, we want to know how we can help.
Call us today at (505) 405-4441 to schedule a free consultation with one of our New Mexico attorneys. We can help you find justice and compensation after the death of a loved one.
What Is a Wrongful Death, and Who Can File a Claim?
Determining whether you have a case starts with understanding the cause of your loved one's death. Like any personal injury case, a wrongful death claim is legitimate only when another person's actions can be directly linked to the loss of life. Whether these actions were purposeful does not matter to your claim. Wrongful deaths can be caused by:
If your loved one died in an accident or assault of any type, our team is here to help you determine whether a wrongful death suit may be appropriate. Every initial consultation with our team is free and confidential.
Wrongful death cases are typically filed by the survivors or the estate of the deceased. New Mexico law lays out who is eligible to recover compensation and how any settlement or verdict must be split by eligible parties.
In order, the individuals who may file for/benefit from a wrongful death claim are the surviving:
Spouse
Child(ren)
Grandchild(ren)
Parents of a deceased minor
Sibling(s)
Especially in large or blended families, questions of who can file are often disputed. We can clarify your rights under New Mexico law.
Filing a Claim Can Bring Closure and Stability
Those who are eligible to file a wrongful death claim may find themselves wondering why taking such a step even matters. There are two big reasons we believe taking this action is the right step for most people who have lost a loved one.
Tangible and Intangible Losses Impact Your Quality of Life
We rely on our family members for love and encouragement; for financial support; and for help with our needs and obligations, among others. Losing a loved one can have real financial impacts and bring heavy emotional challenges at the same time.
With a wrongful death suit, you can seek to reclaim these expenses and losses, including:
Medical care needed by the deceased before the end of their life
Pain and suffering of the deceased before the end of their life
Funeral and burial costs
Lost income
Loss of inheritance
Loss of companionship
Loss of household services
Mental anguish
After losing a member of your household, you may have to change your working situation, pay someone to complete work your loved one used to do, or make other changes to your standard of living. A wrongful death case can help you continue to provide for yourself and your family.
Accountability Matters
A wrongful death claim is also key to holding wrongdoers accountable. Whether a careless driver caused a fatal accident or a profit-hungry company put the general population at risk, requiring negligent individuals to face up to the consequences of their actions is important.
This is especially true if your loved one's death was caused by a danger that could affect others. For instance, issues like poor road design or defective airbags can be a part of wrongful death claims. With our attorneys by your side, filing a claim can turn the spotlight on persisting dangers that could continue to affect others. Legal action can be key to pushing for moves that may prevent future accidents.

Notable Case Results
Hundreds of Millions Recovered on Behalf of Our Clients
Medical Malpractice $67.3 Million

Wrongful Death $52 Million

Trucking Accident $18.9 Million

Medical Malpractice $9 Million

Medical Malpractice $7.8 Million

Wrongful Death $6 Million

Wrongful death $3.7 Million

Medical Device Defect $2 Million

Wrongful Death Amount is Confidential A Caring Team by Your Side
At McGinn, Montoya, Love & Curry, our attorneys unfortunately have a front-row seat to the many hazards and careless actions that change peoples' lives forever. We are dedicated to fighting back. Our attorneys take cases that can transform our clients' lives and push for a safer and more just world. Verdicts and settlements won by our team have impacted laws, regulations, and corporate policies on top of returning compensation to those who most need it after a loss.
We understand how difficult it is to lose a loved one, especially in a completely preventable accident. Be assured our team is here to support you in any way we can. We give you the time and space to grieve while doing everything we can to fight for justice for you and the one you lost. With our full team dedicated to your case, you will have access to legal resources and trustworthy counsel.
For anyone considering whether to file a wrongful death case, it is important to know your rights and options in detail. Our attorneys are here to answer your questions and help you plan your next steps.
Schedule a free consultation with McGinn, Montoya, Love & Curry by calling us at (505) 405-4441. Our caring attorneys are here to support you.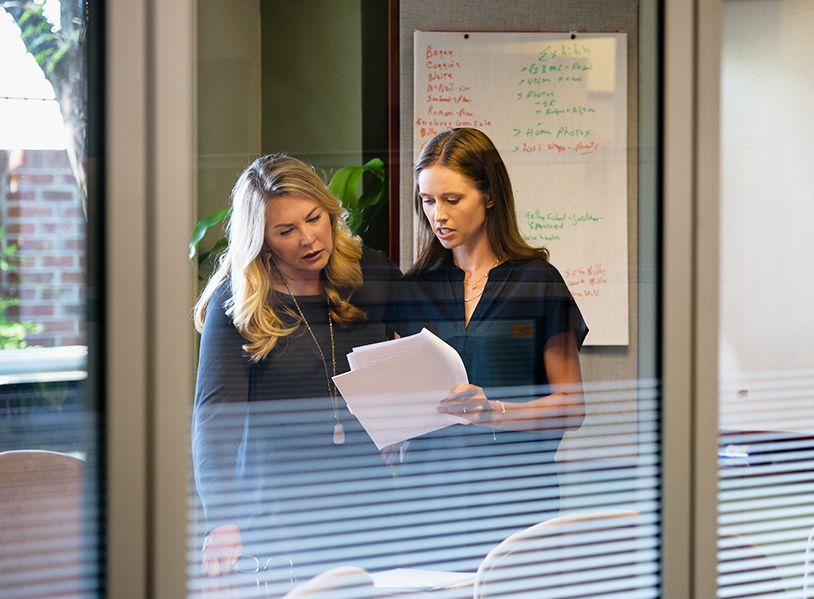 Determined to Make a Difference
Why McGinn, Montoya, Love & Curry?
It's All About the Mission

Our goal is to use the law as a force for good. We not only want to achieve the best possible results for our clients, but we strive to create lasting change that makes our world a safer place.

Prepare Every Case for Trial

We believe when you lead with confidence, you've won before you started; therefore, by fighting from a position of strength, we know that cases are more likely to settle for a fair amount.

Personalized Approach

Because every case is unique, we never apply a one-size-fits-all approach. We take the time to know our clients and prepare personalized strategies that yield the greatest success.

35 Years of Experience

Since 1985, we have been helping ordinary citizens hold insurance companies and corporate wrongdoers accountable, while securing the compensation our clients deserve.
Our Awards & Accolades
Recognized as a Top-Tier Law Firm