New Mexico Auto Defect Lawyers
Working with Accident Victims to Hold Negligent Automakers Accountable
While drivers can take defensive actions to help protect against mistakes or careless actions by others, there is little we can do to prevent accidents caused by defective vehicles. Malfunctions that cause drivers to lose control are rare, but they can cause serious crashes. Likewise, when a car's safety features fail at critical times, a driver and their passengers may sustain severe injury.
Automakers and parts manufacturers have a duty to always hold themselves to the highest safety standards. When they fail, that duty falls to us instead. McGinn, Montoya, Love & Curry is here to help you find justice after an accident caused by an auto defect. Our skilled litigators are ready to take on big corporations that put consumers in danger. We help injury victims fight for fair compensation and push for dangerous parts to be recalled so they cannot cause any more accidents.
If you or a loved one was injured due to a faulty part or vehicle, please tell us your story. We can help you explore your legal options.
Call McGinn, Montoya, Love & Curry at (505) 405-4441 for a free consultation with one of our New Mexico auto defect lawyers. We have the skill and resources to litigate these complex cases.
Types of Auto Defect Claims
As the steady stream of safety-related car recalls shows, defective auto parts are far too common. Improper designs and poor workmanship are responsible for preventable wrecks and injuries every year.
Our attorneys can help investigate your accident and file a claim for injuries caused by:
Airbag defects
Brake defects
Car/battery fires
Door lock defects
Rollover accidents
Roof defects (roof collapse/crush injuries)
Seat back collapse
Seat belt failure
Sudden acceleration
Tire tread separation
While proof of a malfunction is not always easy to find, we urge those impacted by auto defects to speak to our team. Rooting out dangerous vehicles or parts can lead to recalls that make all of us safer.
Proving an Auto Defect Claim
Auto defect claims should be made with the help of skilled attorneys, investigators, and experts. Along with proving the typical elements of a personal injury claim, your lawyers must be able to effectively demonstrate the existence of a defect and its role in your accident. This means showing how a properly made vehicle would have performed differently, saving you from your injuries.
Our team has a network of accomplished experts to work with us on complex cases like these. Auto defect claims can be lengthy, requiring resources some firms may not have at hand. Make sure you are working with a team that is determined to see your case through, no matter what. As a respected New Mexico law firm, we can provide the support and attention you need from the start of your claim through its resolution.
Shared Liability in Auto Defect Cases
After proving a defective auto part was a key cause of your accident, our attorneys will also consider whether parties beyond the manufacturer may share liability. For instance, when a truck accident is caused by a tire-tread separation, we will investigate the vehicle's owner. If we can find proof the company neglected to provide the necessary maintenance, we can help you bring an additional claim. Or, if you purchased a used car that was under a recall for the faulty part and the seller did not inform you of this fact, they might be liable as well.
Determining shared fault matters for more than one reason when it comes to finding justice. First, filing against multiple parties can help you maximize your compensation, which is important for those whose futures have been turned upside down by a serious injury. Second, every person whose negligence contributed to an accident should be held responsible. Especially when managing a complex claim such as this, you need a skilled and experienced attorney in your corner.

Notable Case Results
Hundreds of Millions Recovered on Behalf of Our Clients
Medical Malpractice $67.3 Million

Wrongful Death $52 Million

Trucking Crash $18.9 Million

Medical Malpractice $9 Million

Medical Malpractice $7.8 Million

Wrongful Death $6 Million

Wrongful death $3.7 Million

Medical Device Defect $2 Million

Trucking Crash 8-Figure Settlement

Wrongful Death Amount is Confidential Let Our Attorneys Fight for You
Our team at McGinn, Montoya, Love & Curry is dedicated to taking cases that can make a difference. When it comes to product liability and auto defects claims, we see a chance not only to help an injury victim but also to remove other dangerous vehicles from the road before another accident happens. Filing a claim against the makers of faulty or malfunctioning parts can save others from having to experience the hardships you have.
We are also here to help you fight for fair financial compensation. Filing an injury claim can help ensure you will be able to provide for yourself and your loved ones into the future. Let us support you in this endeavor. Our team can handle every detail related to the filing process and will not back down, no matter who we are up against. We can take the lead in your fight for justice so you can focus your energy on healing.
Ask our attorneys how we can help you with an auto defect claim in a free consultation. Call us at (505) 405-4441 to learn how to start your case.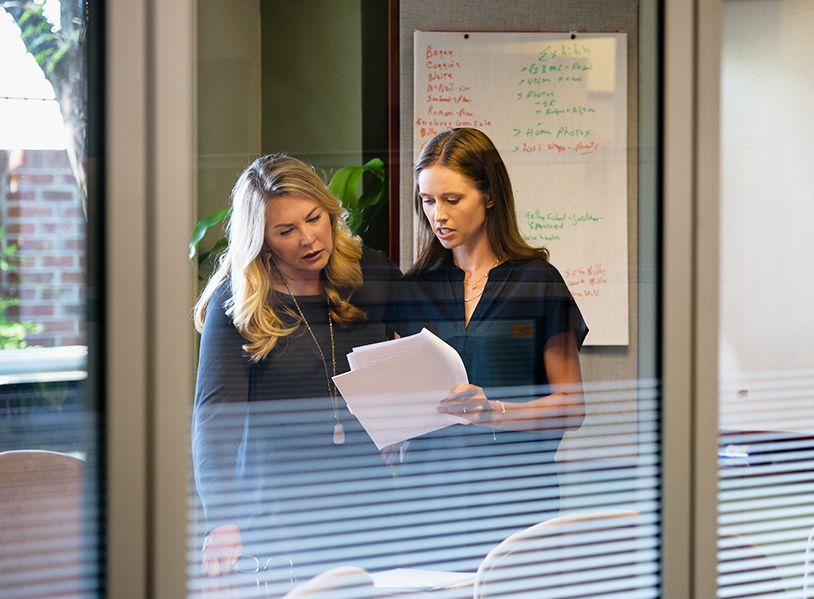 Determined to Make a Difference
Why McGinn, Montoya, Love & Curry?
It's All About the Mission

Our goal is to use the law as a force for good. We not only want to achieve the best possible results for our clients, but we strive to create lasting change that makes our world a safer place.

Prepare Every Case for Trial

We believe when you lead with confidence, you've won before you started; therefore, by fighting from a position of strength, we know that cases are more likely to settle for a fair amount.

Personalized Approach

Because every case is unique, we never apply a one-size-fits-all approach. We take the time to know our clients and prepare personalized strategies that yield the greatest success.

35 Years of Experience

Since 1985, we have been helping ordinary citizens hold insurance companies and corporate wrongdoers accountable, while securing the compensation our clients deserve.
Our Awards & Accolades
Recognized as a Top-Tier Law Firm