Defective Medical Device Lawyers in New Mexico
We Fight for Patients Whose Health Aids Caused Serious Injury
Many Americans rely on medical devices to maintain their health and mediate the effects of disabilities or chronic health conditions. They trust the companies that make and market these medical products to thoroughly test them in a variety of situations and provide clear warnings of any risks that may come with use. When this promise is broken, patients may suffer unexpected pain, require expensive corrective procedures or, in the worst scenario, sustain a severe fatal injury.
Filing a claim against pharmaceutical companies or medical device manufacturers requires skill and an abundance of resources. You will have both on your side when you partner with McGinn, Montoya, Love & Curry. Our attorneys have gone toe-to-toe with big companies before, proving the existence of product defects and demonstrating how they led to client's injuries. Let us help you understand your legal options if you or a loved one was injured by a defective medical product.
McGinn, Montoya, Love & Curry offers free consultations throughout New Mexico. Call (505) 405-4441 to schedule your meeting with one of our skilled defective medical device attorneys.
Types of Medical Device Defects
Medical device malfunctions may not affect all users or cause the same symptoms among every patient. However, this should not stand in the way of your claim if you were injured by a faulty device.
As a successful case must prove the existence of a malfunction and its negative impacts on you, it is important to understand what could go wrong with your device and what the symptoms would likely be. A 2018 study by the Association for the Advancement of Medical Instrumentation (AAMI) looked at 343 medical device recalls to find the top reasons they were pulled from the market. In order, the most common defects were:
Software issues
Mislabeling
Quality issues
Being manufactured outside of specifications
Due to the high stakes patients face should something go wrong, any shortcoming in a medical device is unacceptable. This includes errors or omissions in the instructive materials that come with it. If a patient does not know how to or is prevented from using a device correctly, the impact can be equivalent to an instance of a device breaking while in use.
Medical device makers have a broad obligation to make sure devices come with proper directions and function as expected every time. A breakdown in any step of the process can put patients in danger—and open a company up to liability if anyone is injured.
Stryker & Zimmer Hip Implants
Our attorneys are following the development of litigation surrounding metal-on-metal hip implants made by Stryker and Zimmer. Though these products were sold with the promise of improving function and decreasing pain, implant recipients experienced the opposite. Multiple recalls have highlighted these products' propensity to degrade or otherwise fail, causing pain, nerve and joint damage, and metallosis and metal poisoning.
Patients who have received metal-on-metal joint replacements should watch for signs of device malfunction including:
Joint pain or stiffness
Joint instability
Swelling
Chest pain and shortness of breath
Numbness or weakness
Changes in vision or hearing
Fatigue, feeling cold, or gaining weight
Metal toxicity can affect your cardiovascular and nervous systems, among others, causing severe and urgent afflictions. Speak to your doctor if you believe your symptoms may be related to the failure of a metal-on-metal hip implant. Then, call our attorneys to discuss filing your claim.
Dangerous Drugs
Medical devices are not the only products that can harm patients. Each year, multiple pharmaceutical drugs are found to cause unexpected side effects. Some are so serious they can change patients' lives forever. From simple drugs like heartburn treatment Zantac to specialty therapeutics like Truvada and Taxotere, dangerous pharmaceuticals can in some cases do more harm than good for patients. As with defective medical devices, these errors may be caused by shortcomings in testing, instructions/warnings, or the manufacturing process. If you believe you suffered a preventable and unnecessary injury from one of your medications, reach out to our team today.
Can I File A Claim If a Device Is Recalled?
Defective medical devices and dangerous drugs are often updated with consumer warnings when the risks become clearer, if not pulled from shelves altogether. While manufacturer actions like these can affect your claim, they do not automatically disqualify you from filing for compensation. Many patients have brought successful claims against pharmaceutical companies or medical device manufacturers after major recalls of the products they were injured by. While each case is different, our attorneys can help you understand your rights and determine the best option for finding justice.

Notable Case Results
Hundreds of Millions Recovered on Behalf of Our Clients
Medical Malpractice $67.3 Million

Wrongful Death $52 Million

Trucking Crash $18.9 Million

Medical Malpractice $9 Million

Medical Malpractice $7.8 Million

Wrongful Death $6 Million

Wrongful death $3.7 Million

Medical Device Defect $2 Million

Trucking Crash 8-Figure Settlement

Wrongful Death Amount is Confidential Protecting Patients' Right to Safe Treatment
All of us rely on medical companies to provide us with treatments and therapies that will improve our health without putting us in undue danger. Corporations that decide to put profits over consumer safety must be held accountable—especially in an industry where mistakes can have life-or-death consequences for ailing patients. McGinn, Montoya, Love & Curry is ready to take on big businesses who do not take their responsibility to patients seriously.
If you or a loved one was injured by a defective medical device, we can help you file for damages including medical expenses, pain and suffering, and lost wages. By bringing a claim, you can also do your part to encourage a recall of a dangerous device. When companies have to compensate injury victims and publicly face the consequences of selling dangerous devices, they are more likely to decide selling a faulty product is not worth the profit it brings in. It is unfortunate that this is what it takes to keep these corporations honest, but we want to help you make the most of your opportunity to find justice. Ask how we can partner with you to stand up for patient safety.
Call McGinn, Montoya, Love & Curry at (505) 405-4441 to schedule a free consultation with our New Mexico attorneys. We can help you fight back if you or a loved one were injured by a defective medical device.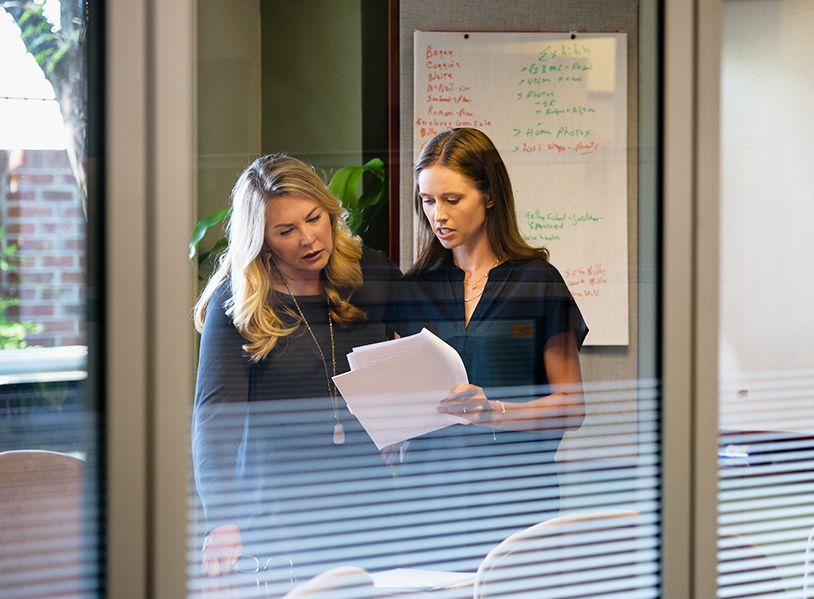 Determined to Make a Difference
Why McGinn, Montoya, Love & Curry?
It's All About the Mission

Our goal is to use the law as a force for good. We not only want to achieve the best possible results for our clients, but we strive to create lasting change that makes our world a safer place.

Prepare Every Case for Trial

We believe when you lead with confidence, you've won before you started; therefore, by fighting from a position of strength, we know that cases are more likely to settle for a fair amount.

Personalized Approach

Because every case is unique, we never apply a one-size-fits-all approach. We take the time to know our clients and prepare personalized strategies that yield the greatest success.

35 Years of Experience

Since 1985, we have been helping ordinary citizens hold insurance companies and corporate wrongdoers accountable, while securing the compensation our clients deserve.
Our Awards & Accolades
Recognized as a Top-Tier Law Firm