New Mexico Catastrophic Injury Attorneys
Fighting for Those Who Have Suffered Life-Changing Injuries
A permanent disability can change you and your loved ones' lives in countless ways. Physically, emotionally, and financially, the challenges that result from catastrophic injuries are numerous and can be devastating. When such an injury was caused by someone else's negligent, reckless, or otherwise irresponsible behavior, you have the right to hold them accountable. Our attorneys are here to help you find justice so you can move forward.
McGinn, Montoya, Love & Curry, and the team of catastrophic injury attorneys in New Mexico are not afraid to take on complex legal cases when your future is at stake. In over 3 decades of fighting for injury victims, we have successfully taken on corporate giants and major insurance companies to help clients obtain justice. You need a dedicated team like ours on your side to help with your catastrophic injury claim.
Call us at (505) 405-4441 or online to schedule a free consultation with our attorneys. From our Albuquerque office, we serve injury victims throughout New Mexico.
What Is a Catastrophic Injury?
Catastrophic injuries are those life-changing events you would not wish on your worst enemy. They cause injuries that require extensive treatment, day-to-day assistance, and other costly medical care for years, if not the rest of a patient's life. Our team can help those who have suffered catastrophic injuries including:
Amputation/Loss of Limb,
Anoxic Brain Injury,
Paraplegia,
Quadriplegia,
And many others.
Injuries that result in permanent disability present a host of challenges to victims and their families. Our attorneys can help you identify damages and liability so the wrongdoers can be held accountable and you can obtain the help treatment need.
Making a Catastrophic Injury Claim
After any accident and injury caused by someone else, you have the right to seek justice and make a claim for compensation. When it comes to catastrophic injuries, it is important to make sure you receive the maximum compensation possible so neither you nor your community bears the burden for injuries caused by the wrongful conduct of another.
Considerations After Catastrophic Injuries
Injury claims always consider future expenses but having an accurate appraisal of your needs is never more important than after a life-changing accident. Catastrophic injury victims' damages continue to accrue over time and typically include unique needs that include:
Rehabilitation/ongoing therapy (speech, physical, occupational, etc.)
Future medical expenses
Loss wages and earning capacity
Loss of household services
Accommodations
Adaptive/prosthetic devices
Household renovations for accessibility
Personal aide/caregiver
Lost enjoyment of life
Pain and suffering
Emotional distress
Loss of society and affection
The extent and type of assistance a catastrophic injury patient will require depends on their situation. Our attorneys can help you map out your future needs.
Ensuring Sufficient Compensation for Your Injuries
Catastrophic injury claims should be handled by a skilled and experienced team that knows how to evaluate claims to hold the wrongdoers accountable. Having strong litigators like ours on your side is critically important, as insurers push back against high settlements catastrophic injury victims need to account for their losses. However, even the best trial attorneys must be backed by compelling evidence.
To persevere against challenges to your rights, the team at McGinn, Montoya, Love & Curry knows how to investigate accidents of any type to find the evidence needed to strengthen your case. We look beyond the simple explanation and leave no stone unturned.
We also partner with medical and life-care experts to ensure the most accurate picture of your future and ongoing needs. Catastrophic injuries affect victims and their loved ones in ways that are not always obvious. We reach out to professionals who have helped others in your situation arrange for the care and assistance they need. Between their input and advice from our network of medical experts, we can help you accurately estimate the damages your lawsuit should seek to recover.

Notable Case Results
Hundreds of Millions Recovered on Behalf of Our Clients
Medical Malpractice $67.3 Million

Wrongful Death $52 Million

Trucking Crash $18.9 Million

Medical Malpractice $9 Million

Medical Malpractice $7.8 Million

Wrongful Death $6 Million

Wrongful death $3.7 Million

Medical Device Defect $2 Million

Trucking Crash 8-Figure Settlement

Wrongful Death Amount is Confidential A Skilled Team Fighting for You
Catastrophic injuries are challenging emotionally and physically, and you need a team to provide all-around support as you consider your next steps. Our attorneys balance compassion and strength to provide the support you need through this process while fighting for you every step of the way. We are here to listen to your thoughts and answer any questions you may have as you consider your next steps.
Our team is happy to take on the work of fighting for justice for you while you focus on your health. All our attorneys work together on every case, preparing the strongest case for you. Whether we are investigating an accident, seeking an expert consultant's opinion, or directly negotiating with an insurer, every step we take is done to benefit our clients.
We understand how difficult it can be to face the changes caused by a catastrophic injury. Let us provide the support you need as you decide on your next steps.
McGinn, Montoya, Love & Curry is here to fight for catastrophic injury victims after accidents caused by another party's negligence. Schedule your free consultation by calling (505) 405-4441.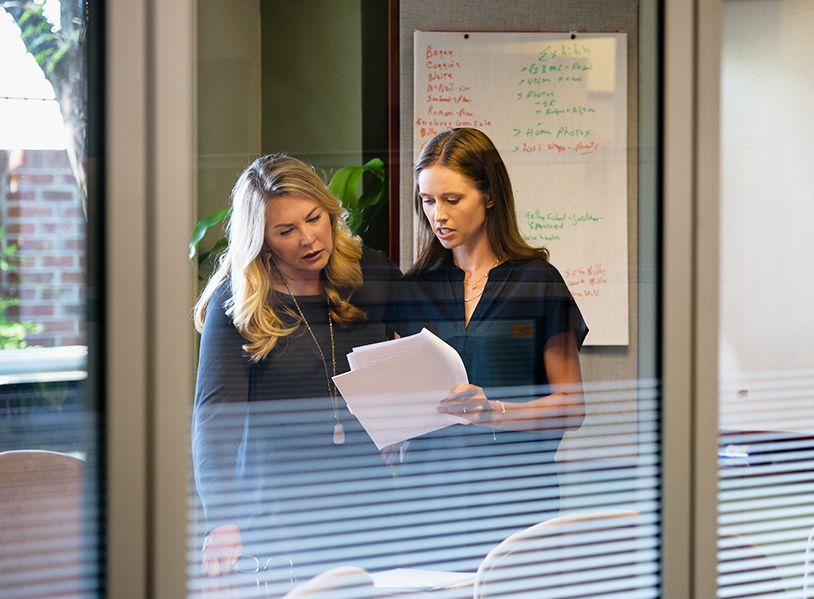 Determined to Make a Difference
Why McGinn, Montoya, Love & Curry?
It's All About the Mission

Our goal is to use the law as a force for good. We not only want to achieve the best possible results for our clients, but we strive to create lasting change that makes our world a safer place.

Prepare Every Case for Trial

We believe when you lead with confidence, you've won before you started; therefore, by fighting from a position of strength, we know that cases are more likely to settle for a fair amount.

Personalized Approach

Because every case is unique, we never apply a one-size-fits-all approach. We take the time to know our clients and prepare personalized strategies that yield the greatest success.

35 Years of Experience

Since 1985, we have been helping ordinary citizens hold insurance companies and corporate wrongdoers accountable, while securing the compensation our clients deserve.
Our Awards & Accolades
Recognized as a Top-Tier Law Firm