Traumatic Brain Injury Attorneys in New Mexico
TBI Can Change Your Life Forever. Our Attorneys Are Here to Help You Find Justice.
If your family member sustained a traumatic brain injury (TBI) in an accident, you are likely facing a host of serious decisions and enormous challenges. From medical care to financial questions and beyond, we understand this is one of the hardest times in your life. Finding the right attorney to help you as you consider your next steps matters.
We want to help you understand your legal options after a serious injury caused by someone else's negligence. You have the right to compensation for damages including past and future medical bills, lost earning potential, lost wages, pain and suffering, loss of society, and more.
Those who cause the injuries are not always willing to take responsibility and pay for the harm they have caused. Our skilled TBI attorneys are here to help guide you through this process and ensure you have a fierce team of advocates on your side every step of the way. With McGinn, Montoya, Love & Curry on your side, you will get personal attention from a team that is ready to do everything we can for you.
Call our brain injury lawyers today at (505) 405-4441 to schedule a free consultation. We have been serving TBI victims in Albuquerque and all of New Mexico for 35 years.
Common Causes of Traumatic Brain Injuries
Slip and falls
Sports accidents
Being struck by an object
Types of Brain Injuries
Concussion
Edema
Hematoma
Skull Fracture
Stroke
Traumatic Brain Injury Symptoms
Not all traumatic brain injuries are of equal severity, but even a TBI categorized as "mild" TBI (also known as a concussion) can have lingering symptoms that cause unexpected and debilitating consequences. People may find themselves having trouble remembering things, experiencing mood changes, noticing vision impairments, and facing other symptoms that can interfere with their ability to perform their jobs and take care of other responsibilities.
Because the brain is the control center for the entire body, TBI can affect any part of the body. These injuries can cause complications including:
Decreased cognitive skills
Difficulty with communication & language
Trouble sleeping
Hearing impairments
Vision problems
Dysphagia (difficulty swallowing)
Changes to behavior
Mental health conditions like depression and anxiety
Approximately 30% of those who suffer moderate or severe TBI will need some sort of daily assistance even after rehabilitative therapy. Many TBI patients are able to live on their own, but for some, assisted care homes or live-in caretakers are essential. These are among the considerations a TBI patient and their family must consider when looking to the future.
Working with Our Traumatic Brain Injury Attorneys
Aside from the emotional challenges of suffering or seeing a loved one suffer a TBI, injury victims must deal with the financial demands of treatment and the impact of not being able to work as effectively as they used to—or at all. Aside from the immediate costs of emergency care and expenses related to long-term therapies, TBI victims are more likely to suffer complications that include:
Seizures
Infections
Pneumonia
Stroke
Epilepsy
Degenerative diseases such as Alzheimer's or Parkinson's
The amount of compensation you seek you receive must account for current and future needs, including losses related to the victim's inability to continue working or performing household services and their loss of enjoyment of life.
Your Local Brain Injury Lawyer in New Mexico
With our team on your side, you will have access to medical experts who can help map out what your future may look like. We can pinpoint the various expenses your family may face due to TBI, including the ones that are not obvious. You will also have someone to fight for you if those who caused your injuries are unwilling to take proper responsibility. Whenever we start working with a client, we prepare their case for trial and are ready to litigate. This preparation is what helps our clients get the justice they deserve. Contact us today.

Notable Case Results
Hundreds of Millions Recovered on Behalf of Our Clients
Medical Malpractice $67.3 Million

Wrongful Death $52 Million

Trucking Crash $18.9 Million

Medical Malpractice $9 Million

Medical Malpractice $7.8 Million

Wrongful Death $6 Million

Wrongful death $3.7 Million

Medical Device Defect $2 Million

Trucking Crash 8-Figure Settlement

Wrongful Death Amount is Confidential Serving New Mexico Since 1985
Our team at McGinn, Montoya, Love & Curry has decades of combined experience and a shared and deep commitment to helping those who need it most. If you or a loved one was seriously injured in an accident that was someone else's fault, we are here to fight for justice on your behalf. You can have confidence our team will do everything we can for you.
Traumatic brain injuries can change you and your loved ones' lives forever. In the face of such a tragedy, our attorneys want to make sure you have the means you need to move forward. We also want to help you hold every at-fault party accountable. The reason we fight every claim so hard is that, above all, we are after justice. We believe through the legal system we can achieve justice.
Ask our New Mexico brain injury attorneys how we can help you. Call (505) 405-4441 to schedule a free consultation with one of our team members over the phone or at our Albuquerque office.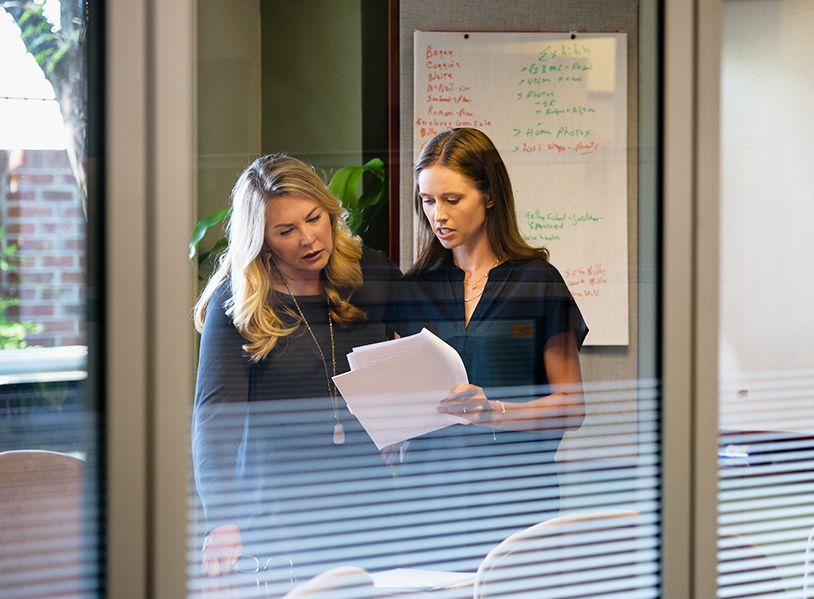 Determined to Make a Difference
Why McGinn, Montoya, Love & Curry?
It's All About the Mission

Our goal is to use the law as a force for good. We not only want to achieve the best possible results for our clients, but we strive to create lasting change that makes our world a safer place.

Prepare Every Case for Trial

We believe when you lead with confidence, you've won before you started; therefore, by fighting from a position of strength, we know that cases are more likely to settle for a fair amount.

Personalized Approach

Because every case is unique, we never apply a one-size-fits-all approach. We take the time to know our clients and prepare personalized strategies that yield the greatest success.

35 Years of Experience

Since 1985, we have been helping ordinary citizens hold insurance companies and corporate wrongdoers accountable, while securing the compensation our clients deserve.
Our Awards & Accolades
Recognized as a Top-Tier Law Firm