New Mexico Cerebral Palsy Lawyers
If Your Baby Suffered Brain Damage During Childbirth, Our Attorneys Can Help Your Family Plan for the Future
Because fetal hypoxic/anoxic brain damage can happen in just minutes during childbirth, corporations who run hospitals and must ensure all healthcare staff are well-trained in recognizing and responding to the signs of fetal distress. Providers must know all the risk factors that can increase your baby's risk of suffering a birth injury like cerebral palsy. Your treatment team must also closely monitor you and your baby during the labor and delivery process. Failure to respond to signs of distress may cause a baby to suffer oxygen deprivation, leading to a serious and permanent medical condition like cerebral palsy.
As a parent, learning your child has cerebral palsy can be devastating. Not only must you consider the typical questions regarding your child's upbringing but also issues of access and ability when it comes to education and other opportunities. For many families, resources are a serious barrier to getting their child the necessary help they need and deserve.
If your baby has cerebral palsy because of the wrongful conduct of another, you have the right to hold them accountable in court. Our team can help you through this process, seeking full damages to include compensation for future medical needs, assistive devices, rehabilitative therapies, and more. At McGinn, Montoya, Love & Curry, we want to make sure your family has what it needs and what it is entitled to after a baby suffers a birth injury. Reach out to our legal team to learn more about your rights and options.
Call our New Mexico team at (505) 405-4441 for a free consultation. If your child's case of cerebral palsy was preventable, we want to help you receive justice.
What Is Cerebral Palsy?
Cerebral palsy is a group of motor function disorders caused by severe brain damage. Oxygen deprivation is the main cause of cerebral palsy; whether in the womb or during birth, lack of blood flow to a baby can cause dangerously low blood oxygen levels that trigger brain cell death. Cerebral palsy often occurs alongside hypoxic-ischemic encephalopathy, a condition in which part of the cerebral motor cortex is destroyed due to reduced oxygen flow.
Cerebral palsy caused by oxygen deprivation can and should be prevented. Symptoms of fetal distress signal the need for immediate medical intervention. A treatment team must also be ready to act in situations that are likely to hinder the flow of oxygen to the fetus:
Severe maternal blood pressure decrease
Uterine rupture
Placental abruption
Umbilical cord prolapse
When inadequate systems, procedures, or protocols are in place, or when individuals are not properly trained and the choice is made not to respond to signs of distress, a family can seek justice in a court of law when their baby suffers as a result.
Though less common, physical injury to the brain from tools like forceps can cause cerebral palsy. Improper use of forceps can cause a number of injuries to a baby, including brain injuries that can lead to cerebral palsy. If your child suffered brain injury due to physical trauma during childbirth, it is important to learn if you may have grounds to make a claim.
Bringing a Cerebral Palsy Claim
Filing a claim for compensation can help you hold those who caused the injuries accountable and provide you with the resources you need to care for your child. Cerebral palsy symptoms vary; those with the condition often need a range of accommodations to access the world. The condition may also cause continuing health issues for which your child will need ongoing treatment. With a birth injury claim, you can seek damages for expenses like:
Medical bills (past and future)
Surgeries
Braces or other orthotic devices
Vision and hearing aids
A wheelchair or other mobility devices
Physical, occupational, and speech therapies
Assistive devices for communications and education
Accommodations for your home
Accommodation to access the world
24-hour nursing care
Respite care
When your child has suffered a brain injury, it also impacts your life in countless ways. You or a loved one may have to cut back on work hours or leave your job entirely to become a caregiver. Or, you may have to hire an aide for your child. Our team can help you identify every loss and challenge you and your family may face now and in the years to come.

Notable Case Results
Hundreds of Millions Recovered on Behalf of Our Clients
Medical Malpractice $67.3 Million

Wrongful Death $52 Million

Trucking Crash $18.9 Million

Medical Malpractice $9 Million

Medical Malpractice $7.8 Million

Wrongful Death $6 Million

Wrongful death $3.7 Million

Medical Device Defect $2 Million

Trucking Crash 8-Figure Settlement

Wrongful Death Amount is Confidential We Are Here to Serve Families Like Yours
With a reputation and track record for excellence, our team at McGinn, Montoya, Love & Curry has the skill and experience you need to file a cerebral palsy claim. We have been serving New Mexico families for 35 years and, in that time, have developed relationships with top medical experts who consult on our cases.
It is important to seek justice for your child when the wrongful conduct of another results in a lifelong disability. Along with obtaining compensation, you can make a difference for other parents-to-be and their children. In past cases, we have identified the roots of various wrongful conduct by healthcare service providers and called for systemic problems to be addressed, resulting in changes to hospital practices. We are proud to work alongside families to make healthcare safer. When you are ready to investigate the cause of your child's injuries, our team is here.
Call McGinn, Montoya, Love & Curry at (505) 405-4441 to speak with our New Mexico cerebral palsy attorneys. Our skilled and compassionate attorneys are ready to meet with you in a free consultation.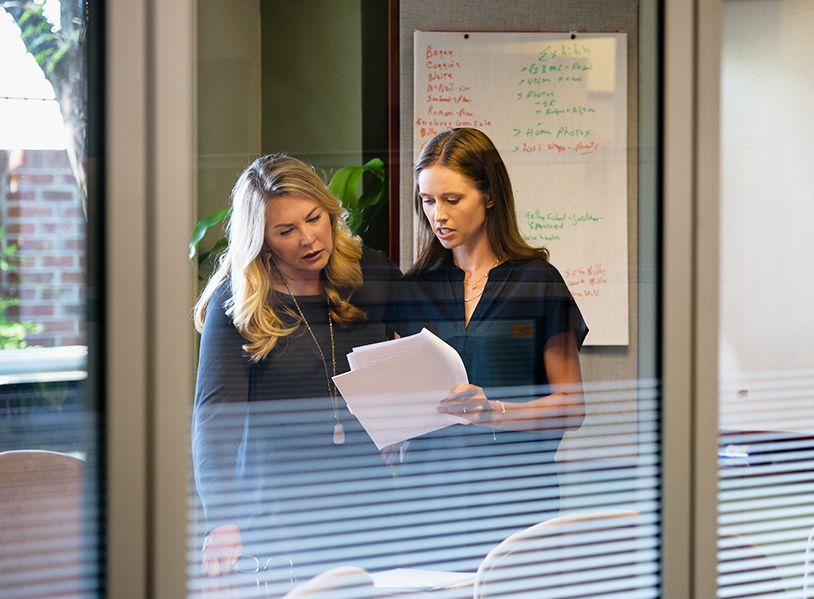 Determined to Make a Difference
Why McGinn, Montoya, Love & Curry?
It's All About the Mission

Our goal is to use the law as a force for good. We not only want to achieve the best possible results for our clients, but we strive to create lasting change that makes our world a safer place.

Prepare Every Case for Trial

We believe when you lead with confidence, you've won before you started; therefore, by fighting from a position of strength, we know that cases are more likely to settle for a fair amount.

Personalized Approach

Because every case is unique, we never apply a one-size-fits-all approach. We take the time to know our clients and prepare personalized strategies that yield the greatest success.

35 Years of Experience

Since 1985, we have been helping ordinary citizens hold insurance companies and corporate wrongdoers accountable, while securing the compensation our clients deserve.
Our Awards & Accolades
Recognized as a Top-Tier Law Firm