Hypoxic-Ischemic Encephalopathy (HIE) Attorneys in New Mexico
If Your Infant Has Suffered Serious Brain Injury, Let Us Help You Find Answers and Justice.
When a baby is deprived of oxygen for a prolonged period during labor and delivery, cell death occurs in the brain and other parts of the body. Hypoxic-ischemic encephalopathy, or HIE, is caused by oxygen deprivation while the baby is in utero. It is a common cause of cerebral palsy and often leads to other severe developmental and cognitive delays and impairments that can continue to become apparent as a child grows.
HIE is preventable. It occurs when hospital corporations have:
Inadequate, unenforced, or insufficient policies, procedures, and protocols to ensure babies and moms are properly monitored for signs of complications or distress
Treatment teams that do not intervene when necessary
The corporations that own and operate hospital labor and delivery units and the treatment teams they place in their units are responsible for preventing such a tragedy from occurring. Brain injury can happen in just a few minutes but affect a child for the rest of his or her life.
There is nothing that will make up for the challenges HIE will introduce to your child's life and to your family. However, you can and should seek justice. Our team at McGinn, Montoya, Love & Curry is dedicated to helping the victims of medical malpractice and birth injury hold any at-fault parties accountable. We are compassionate, yet unafraid to take on big insurers and hospital corporations for their conduct. If your family is looking for answers or considering filing a birth injury claim, we can help you.
Schedule a free consultation for your HIE claim by calling our team at (505) 405-4441. We serve families across New Mexico, helping them fight the battles that matter.
Causes of Hypoxic-Ischemic Encephalopathy
When a mother is giving birth, there are multiple ways providers can see possible signs of distress. For a baby in utero, the way it communicates is through the fetal heart monitor. When there are any signs of possible distress, your treatment team must take immediate action to prevent catastrophic brain and organ damage. If a baby's oxygen supply is not promptly restored, brain cells will begin to die.
Treatment Options for Hypoxic-Ischemic Encephalopathy
Though HIE begins during delivery or labor, the death of brain cells happens in a cascade that can continue after birth. Prompt diagnosis of HIE is essential to trying to mitigate the process that has already begun after the failure to respond to signs of distress. Timely treatment depends on your baby being properly and quickly diagnosed with HIE, which can be identified by abnormal heart rate, low Apgar score, the need for respiratory support, or other immediate indicators.
Cooling Therapy/Hypothermia Therapy
Hypothermia therapy can be used within the first few hours of life to slow down biological processes that result in cascading brain cell death. It is best provided to babies with moderate-to-severe HIE, where it can decrease the rates of mortality and disability that may have otherwise resulted. It should be initiated as soon as possible to be effective.
Plan for the Future with an HIE Claim
Even children who receive prompt cooling therapy may suffer serious cognitive impairment, motor dysfunction, cognitive delays, visual and hearing impairment, and other conditions that require assistance or ongoing medical treatment and care. By filing a birth injury claim, you can seek compensation for damages, including:
Medical expenses
Future medical bills
Rehabilitative therapies (physical, speech, occupational, etc.)
Assistive devices such as hearing aids
Accommodations and home renovations
Day-to-day assistance
Loss of enjoyment of life
Loss of earning capacity
Pain and suffering
Emotional distress
Harm to the relationship
Making sure your child has access to the best care and assistance available is important. Filing an injury claim can help you obtain the financial means to cover the extraordinary costs necessitated by the wrongful conduct of others.

Notable Case Results
Hundreds of Millions Recovered on Behalf of Our Clients
Medical Malpractice $67.3 Million

Wrongful Death $52 Million

Trucking Crash $18.9 Million

Medical Malpractice $9 Million

Medical Malpractice $7.8 Million

Wrongful Death $6 Million

Wrongful death $3.7 Million

Medical Device Defect $2 Million

Trucking Crash 8-Figure Settlement

Wrongful Death Amount is Confidential Powerful Attorneys Fighting for You
McGinn, Montoya, Love & Curry has a reputation for fighting relentlessly for the victims of birth injury. After helping multiple families through this difficult time, we understand how heartbreaking it is to learn your child was injured, despite the harm being preventable. If you want answers and justice, our team is here to support you.
We have made a real difference for families in New Mexico by working hard and preparing every case for trial. Show you are serious about seeking justice for your baby and family by arming yourself with lawyers who have a proven track record and are eager and passionate about litigation. This makes a fair resolution significantly more likely. The results of a legal battle may go beyond compensation: We can uncover conduct that continues to jeopardize the lives of others. By bringing that conduct to light, our team can urge hospitals and practitioners to change harmful policies or processes. Speak with our team to learn how we can help you find justice.
Our New Mexico team cares about cases that can make a difference. Call us at (505) 405-4441 to schedule a free consultation if you are considering an HIE claim.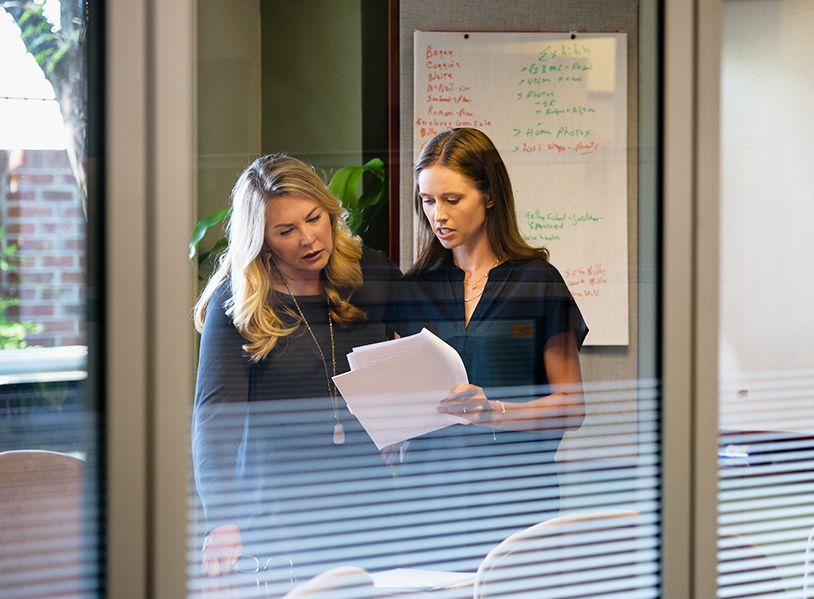 Determined to Make a Difference
Why McGinn, Montoya, Love & Curry?
It's All About the Mission

Our goal is to use the law as a force for good. We not only want to achieve the best possible results for our clients, but we strive to create lasting change that makes our world a safer place.

Prepare Every Case for Trial

We believe when you lead with confidence, you've won before you started; therefore, by fighting from a position of strength, we know that cases are more likely to settle for a fair amount.

Personalized Approach

Because every case is unique, we never apply a one-size-fits-all approach. We take the time to know our clients and prepare personalized strategies that yield the greatest success.

35 Years of Experience

Since 1985, we have been helping ordinary citizens hold insurance companies and corporate wrongdoers accountable, while securing the compensation our clients deserve.
Our Awards & Accolades
Recognized as a Top-Tier Law Firm