Las Cruces Motorcycle Accident Lawyers
Pursuing Maximum Compensation for Your Injuries
Motorcyclists are a vulnerable road user group. Because they lack the protection of an enclosed vehicle, they are more susceptible to injury in the event of a crash with a larger vehicle.
At McGinn, Montoya, Love & Curry, P.A., we understand how difficult it can be to recover compensation after a motorcycle accident. That is why we are here to help. We will work to gather evidence, interview witnesses, and build a strong case to present to the insurance company.
If a settlement cannot be reached, we are prepared to take your case to trial. Our attorneys have years of experience in personal injury law, and we are ready to fight for you. We know how to build a strong case, and we will work to get you the compensation you deserve.
Our firm handles motorcycle accident cases in Las Cruces If you or someone you know has been involved in a motorcycle accident, we encourage you to get in touch with our firm. We can help you understand your options and pursue the compensation you deserve.
Contact us today at (505) 405-4441 to schedule a free consultation.
The Dangers of Motorcycle Accidents
Motorcycle accidents involving another vehicle can be devastating to the motorcyclist due to several reasons. Motorcyclists are particularly vulnerable on the road compared to occupants of cars and other larger vehicles. As we mentioned earlier, the lack of protective barriers and the smaller size of motorcycles make riders more exposed to the forces of a collision, leading to severe consequences in case of an accident with another vehicle.
Here are some factors that contribute to the devastating nature of such accidents:
Lack of Protection: Unlike passengers in cars who are enclosed within a protective metal frame, motorcyclists have minimal protection. They are directly exposed to the impact of a collision, which can lead to serious injuries.
High Risk of Injury: Motorcycle accidents often result in a higher risk of injury and fatality than other types of accidents. Even at lower speeds, the impact can cause broken bones, road rash, internal injuries, and head trauma.
No Seat Belts or Airbags: Motorcycles do not have safety features like seat belts and airbags, which can mitigate the impact of a collision in cars. This lack of restraint systems increases the likelihood of the rider being thrown from the bike upon impact.
Invisibility and Recognition: Motorcycles are smaller and less visible on the road compared to cars, making it harder for other drivers to spot them. This can lead to accidents caused by drivers who fail to see the motorcyclist or misjudge their speed and distance.
Ejection from the Bike: In an accident, motorcyclists can be ejected from their bikes and thrown onto the road or into nearby objects, leading to severe injuries upon impact with the ground or other obstacles.
Multiple Points of Impact: Motorcyclists involved in accidents with other vehicles can experience multiple points of impact, such as the initial collision and subsequent collisions with other objects or vehicles. Each impact increases the risk of injury.
Traumatic Brain Injuries: Head injuries are a significant concern in motorcycle accidents. Even when wearing helmets, motorcyclists can suffer traumatic brain injuries that can have lifelong consequences.
Longer Recovery Periods: Due to the severity of injuries, the recovery period for motorcyclists involved in accidents with other vehicles can be more prolonged and require extensive medical treatment and rehabilitation.
Psychological Impact: Being involved in a serious motorcycle accident can also have a significant psychological impact on the motorcyclist, leading to post-traumatic stress disorder (PTSD) and anxiety about riding again.
Common Causes of Motorcycle Accidents
Common causes of motorcycle accidents involving motor vehicles include:
Left-Turn Collisions: This is one of the most prevalent types of motorcycle accidents involving vehicles. It occurs when a motorist makes a left turn at an intersection or driveway without noticing an oncoming motorcycle, leading to a collision.
Lane Changes: A car or truck may change lanes without adequately checking blind spots, cutting off a nearby motorcycle and causing a collision.
Distracted Driving: Drivers who are distracted by their phones, GPS devices, or other distractions may not see motorcyclists in their vicinity, leading to accidents.
Speeding: Excessive speeding by either the motorcyclist or the driver of a motor vehicle can increase the likelihood of an accident.
Following Too Closely: Tailgating a motorcycle reduces the time available to react to sudden stops or turns, resulting in rear-end collisions.
Dooring Accidents: This happens when a parked vehicle's door is suddenly opened in front of an oncoming motorcycle, leaving the rider little time to avoid a collision.
Drunk or Impaired Driving: Operating a motor vehicle or motorcycle under the influence of alcohol or drugs significantly increases the risk of accidents.
Failure to Yield Right of Way: If a driver fails to yield the right of way to a motorcyclist, it can lead to a dangerous collision.
Inexperienced Drivers/Riders: Lack of experience and proper training can lead to mistakes that result in accidents.
Poor Road Conditions: Potholes, debris, and slippery surfaces can be more hazardous to motorcyclists than to larger vehicles.
Recovering Damages After a Motorcycle Accident
In the aftermath of a motorcycle accident, you will likely be focused on getting the medical treatment you need. However, you should also take steps to preserve evidence and protect yourself against insurance companies. We can help you do both.
You can recover compensation for:
Medical expenses, including ongoing treatment
Lost wages
Loss of future earning capacity
Pain and suffering
Punitive damages
Depending on the circumstances of your accident, you may be eligible to recover compensation for all of these damages. If you were involved in a crash with a larger vehicle, you may be able to recover punitive damages. These are damages awarded to punish the at-fault party for their reckless conduct.
At our firm, we know how to build a strong case. We will work to secure all the evidence we need to prove the at-fault party's negligence. In some cases, we may even be able to prove that the at-fault party acted with criminal intent.
Call us at (505) 405-4441or contact us onlineto get started with a free case evaluation.

Notable Case Results
Hundreds of Millions Recovered on Behalf of Our Clients
Medical Malpractice $67.3 Million

Wrongful Death $52 Million

Trucking Crash $18.9 Million

Medical Malpractice $9 Million

Medical Malpractice $7.8 Million

Wrongful Death $6 Million

Wrongful death $3.7 Million

Medical Device Defect $2 Million

Trucking Crash 8-Figure Settlement

Wrongful Death Amount is Confidential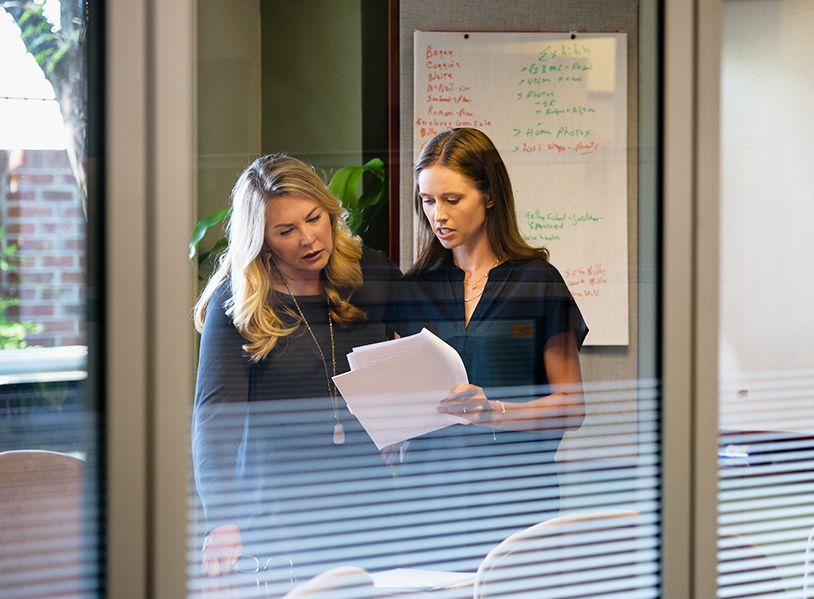 Determined to Make a Difference
Why McGinn, Montoya, Love & Curry?
It's All About the Mission

Our goal is to use the law as a force for good. We not only want to achieve the best possible results for our clients, but we strive to create lasting change that makes our world a safer place.

Prepare Every Case for Trial

We believe when you lead with confidence, you've won before you started; therefore, by fighting from a position of strength, we know that cases are more likely to settle for a fair amount.

Personalized Approach

Because every case is unique, we never apply a one-size-fits-all approach. We take the time to know our clients and prepare personalized strategies that yield the greatest success.

35 Years of Experience

Since 1985, we have been helping ordinary citizens hold insurance companies and corporate wrongdoers accountable, while securing the compensation our clients deserve.
Our Awards & Accolades
Recognized as a Top-Tier Law Firm