Las Cruces Spinal Cord Injury Lawyers
If you or someone you love has sustained a spinal cord injury (SCI) in an accident, you are likely facing a life-changing ordeal.
At McGinn, Montoya, Love & Curry, P.A., our Las Cruces lawyers understand the challenges that come with these injuries, and we are committed to helping you through this difficult time.
Call (505) 405-4441 to schedule an initial consultation.
Common Causes of Spinal Cord Injuries
Falls
Violent acts
Car accidents
Truck accidents
Spinal cord tumors
Motorcycle accidents
What Are the Symptoms of a Spinal Cord Injury?
Pain
Weakness in the body
Numbness in the body
Difficulty breathing
Difficulty moving or feeling the body
In some cases, a spinal cord injury can lead to complete paralysis, making it difficult to perform even the most basic functions difficult. You may be unable to move, feel sensations, or even breathe on your own. Some victims rely on a ventilator to breathe and other medical equipment to perform other functions.
What Are the Treatment Options for a Spinal Cord Injury?
Surgery
Medication
Medical care
Ventilator care
Speech therapy
Physical therapy
Occupational therapy
These treatments are costly. Often, people spend millions recovering from spinal injuries, and they spend even more on the equipment they need to live normally.
Our team is here to help you recover these expenses and receive damages for your pain and suffering.
The Financial Cost of a Spinal Injury
A spinal injury can severely affect your physical well-being, and it also does significant damage to your finances.
Expenses you can face include:
Medication
Ongoing care
Hospital stays
Rehabilitation
The expense of ongoing care alone can be astronomical. If an injury leaves you paralyzed, you must completely readjust your entire life. You may need to upgrade your home, making it more disability-friendly. Your car must also be replaced or upgraded as well. Even if you lose the ability to drive, you will need a vehicle with a lift that can safely get you in and out. Moreover, you may need continued access to medical devices and supplies, depending on the severity of your injury.
A spinal injury can also have lasting effects on your ability to earn an income. The physical limitations of the injury make certain jobs impossible. People often lose their ability to work, or they must seek completely different career paths.
When you total all these expenses, you'll find that the cost of a spinal injury can easily skyrocket into hundreds of thousands or even millions of dollars. This expense puts a victim's financial stability at serious risk.
As the victim of someone else's negligence, you don't deserve what has happened to you. Not only are you suffering physically, but you are also scraping by economically. Our firm fights hard for its clients. We understand the position you are in, and we will treat your case with care and compassion. With us on your team, you may be able to recover any money you've spent, receive money for ongoing medical treatment, and obtain even more for your pain and suffering.
Why Hire a Personal Injury Attorney?
We can help you file a personal injury claim, negotiate with the insurance company, and handle all the legal aspects of your case.
Our team is here to help you navigate the legal system and fight for the compensation you deserve.
How Much Compensation Can I Receive for a Spinal Cord Injury?
The amount of compensation you can receive for a spinal cord injury varies depending on the circumstances of the case.
In many cases, victims receive compensation for:
Lost wages
Lifetime care
Medical expenses
Pain and suffering
Insurance companies often deny these claims, arguing that the victim's injury did not cause paralysis. When you are having trouble getting the help you need, our team can stand by your side and fight for your necessary, owed benefits.
To meet with our Las Cruces spinal cord injury attorneys, contact us online today.

Notable Case Results
Hundreds of Millions Recovered on Behalf of Our Clients
Medical Malpractice $67.3 Million

Wrongful Death $52 Million

Trucking Crash $18.9 Million

Medical Malpractice $9 Million

Medical Malpractice $7.8 Million

Wrongful Death $6 Million

Wrongful death $3.7 Million

Medical Device Defect $2 Million

Trucking Crash 8-Figure Settlement

Wrongful Death Amount is Confidential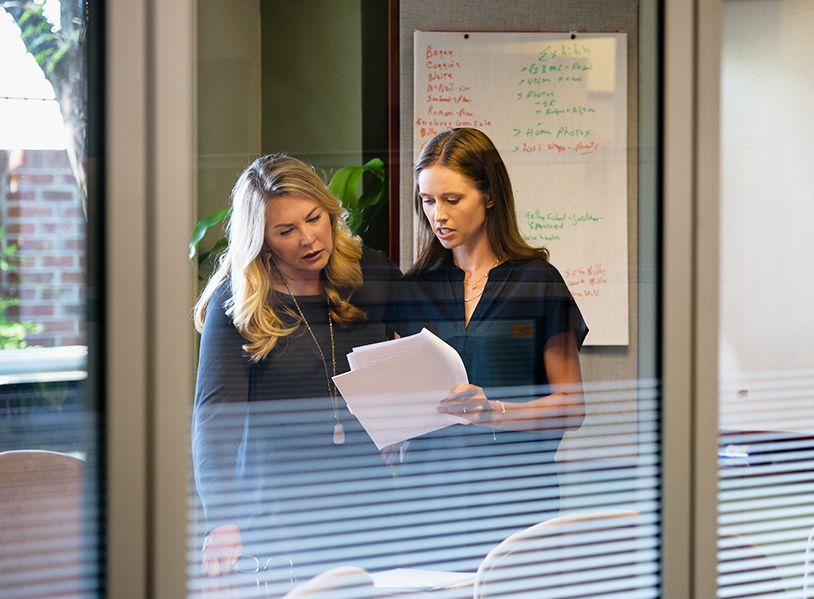 Determined to Make a Difference
Why McGinn, Montoya, Love & Curry?
It's All About the Mission

Our goal is to use the law as a force for good. We not only want to achieve the best possible results for our clients, but we strive to create lasting change that makes our world a safer place.

Prepare Every Case for Trial

We believe when you lead with confidence, you've won before you started; therefore, by fighting from a position of strength, we know that cases are more likely to settle for a fair amount.

Personalized Approach

Because every case is unique, we never apply a one-size-fits-all approach. We take the time to know our clients and prepare personalized strategies that yield the greatest success.

35 Years of Experience

Since 1985, we have been helping ordinary citizens hold insurance companies and corporate wrongdoers accountable, while securing the compensation our clients deserve.
Our Awards & Accolades
Recognized as a Top-Tier Law Firm