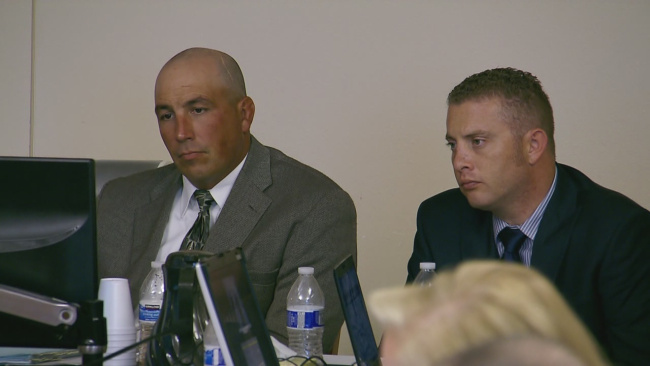 ALBUQUERQUE, N.M. (KRQE) – Those involved in the high-profile murder case against two, former Albuquerque Police Department officers were back in court, Thursday.
The trial for former APD Officers Keith Sandy and Dominique Perez ended in a hung jury.
During a hearing Thursday, Special Prosecutor Randy McGinn withdrew from the case. New Bernalillo County District Attorney Raul Torrez officially took over. He's had a team of outside prosecutors reviewing the case.
Torrez expects a report by the end of the month to decide if the two will be tried again after a mistrial last year.
Special Prosecutor McGinn filed a motion in November to allow new DA Raul Torrez to take over the case. When the judge gave the OK, court records revealed another motion, just a week ago, to withdraw from the case.
It comes soon after Torrez announced he would get input from seven other DA prosecutors from around the state. They're expected to review evidence in the shooting death of homeless camper James Boyd and to make a recommendation to Torrez, soon.
Torrez says this type of review board is uncommon but believes it is necessary. Those Torrez picked to help say they plan to work with lawmakers to try to allow for funding for that process.