ALBUQUERQUE – After two full days of deliberations, a jury here announced on Tuesday that it had failed to reach a verdict in the murder trial of two former police officers for the 2014 shooting death of a homeless man with paranoid schizophrenia.
"Police officers have a very difficult job," the special prosecutor, Randi McGinn, said after the announcement. "The discussion we need to have as a community is, do we want a Dirty Harry or do we want a peace officer? This is the discussion we need to have here in Albuquerque."
After polling the six men and six women on the jury, Judge Alisa Hadfield declared a mistrial. It was not immediately clear if prosecutors would seek another trial.
The two former officers, Keith Sandy and Dominique Perez, had each faced a second-degree murder charge in the shooting of the man, James Boyd, who had been illegally camping on a craggy mountainside on the city's east end. Mr. Sandy also faced a lesser charge of aggravated battery.
"These are two good men," Sam Bregman, one of the defense lawyers, said after the announcement. "Let these two good men get on with their lives."
The case went to the jury on Thursday after 12 days of testimony. Halfway through the trial, Judge Hadfield granted a defense motion to dismiss voluntary manslaughter charges against Mr. Sandy and Mr. Perez, ruling that prosecutors had failed to provide enough evidence to support the charge.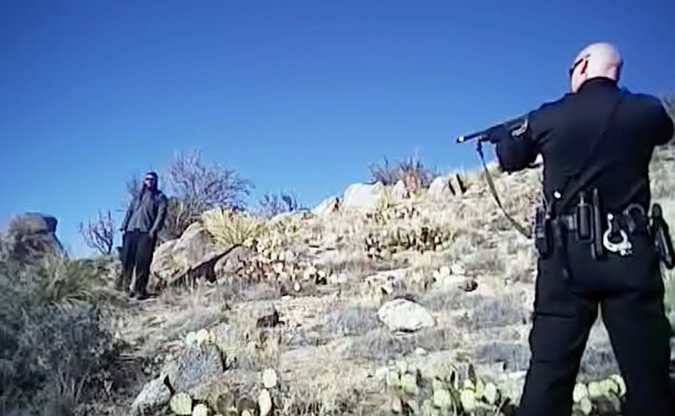 This image from a March 16, 2014, video shows James Boyd, 38, left, during a standoff with officers in Albuquerque before the police fatally shot him. Credit Albuquerque Police Department, via Associated Press
The case highlighted the challenges posed by the growing number of people with severe mental disorders who, in the absence of adequate mental health services, become entangled with the police.
"These officers have suffered the consequences of decisions by elected official to not allocate sufficient resources for the mentally ill," Mr. Bregman argued in his closing statement.
Testifying that they used their training to guide the decisions they made on March 16, 2014, both former officers took the stand in their own defense – a rarity because of the risks it carries, said Douglas Colbert, a professor at the University of Maryland's Francis King Carey School of Law who has written extensively about police misconduct.
"Police testimony could eliminate a juror's uncertainty and lead to conviction," Professor Colbert said. On the other hand, "the officer may gain sympathy from the juror who now understands the officer's tough, split-second decision to make or subjective fear or danger."
Much of the encounter was registered on body and helmet cameras worn by some of the officers, including Mr. Perez. The video, when released, prompted large street protests here.
Only three of the 12 jurors voted to convict the officers. Ms. McGinn said the division among them mirrored the split in the community, where some saw the actions in the video as justified and others did not.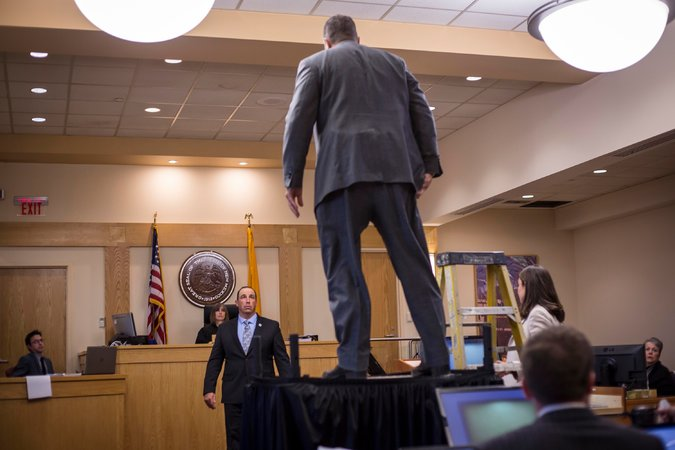 Sam Bregman, on the table, a lawyer representing Mr. Sandy, demonstrates the distance at which Mr. Sandy stood during the moment Mr. Boyd was shot. Credit Juan Labreche/Associated Press
By the time the two officers arrived at the standoff with Mr. Boyd, the episode had been going on for more than two hours. His conversations with police officers had ranged from calm and humorous to delusional. Holding a pocketknife in each hand, Mr. Boyd repeatedly said that he had worked for the Defense Department and that he could get the officers killed "with a phone call."
In his testimony, Mr. Perez, 35, drew a distinction between the images registered by his helmet camera and the encounter as he experienced it, using still frames from the video as his guide. When he arrived at 7:10 p.m., Mr. Perez said, Mr. Boyd went from calm to threatening "almost instantaneously," and he refused to obey orders to drop the knives and get on the ground.
"Going frame by frame like that, we're able to pick apart every little detail," Mr. Perez said. "The way it happened that day, it happened in the blink of an eye, at the speed of life."
He told Ms. McGinn that he never saw Mr. Boyd lunge toward the officers but that he "had a feeling he was going to lunge forward."
That distinction framed Ms. McGinn's closing argument. The trial, she told jurors, was ultimately about the "old-school argument" that "anticipatory shootings" are justifiable and the "modern, 2014 version" that the police may not shoot unless someone is in fact attacking them.
"Society gives police officers a tremendous amount of power," Ms. McGinn said. "We give them guns – not just side arms, but long guns – and we give them a license to kill. But it is a limited license."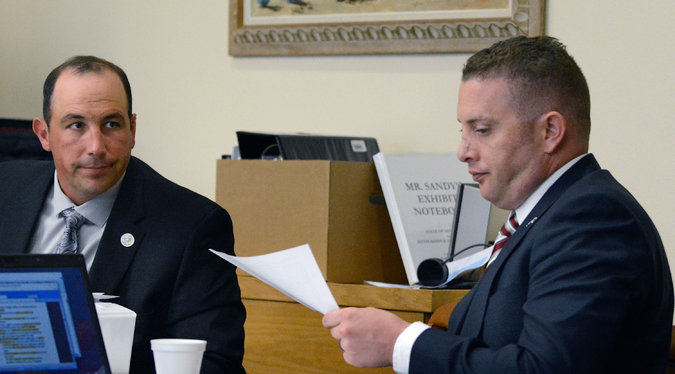 Mr. Sandy, left, and Dominique Perez, who had each faced a second-degree murder charge in the shooting of Mr. Boyd. Credit Pool photo by Jim Thompson
Officers had hastily devised a plan to subdue Mr. Boyd before dark, but nothing appeared to go as expected. He stood unfazed when a flash-bang grenade exploded near him. Mr. Perez testified that from where he stood, Mr. Boyd seemed to be "within arm's reach" of a K9 officer, Scott Weimerskirch, who was retrieving his dog. Mr. Boyd was, in fact, 10 feet away.
Mr. Perez said he saw Mr. Boyd move a hand toward his waistband and "perceived an immediate, deadly threat." Mr. Sandy, who was standing behind Officer Weimerskirch, said Mr. Boyd pulled out his knives and took a slight step to the left.
"He was going to try to flank us," Mr. Sandy, 41, testified. "He was going to attack us from a different angle. That's when I made the decision to shoot."
Mr. Sandy and Mr. Perez each fired three shots, striking Mr. Boyd in the arms and back as he turned away from the officers, his backpack slung on his shoulder.
Mr. Sandy retired after the shooting, and Mr. Perez was fired.
During the trial, Ms. McGinn portrayed Mr. Sandy differently from Mr. Perez. She began her cross-examination of Mr. Perez by thanking him for his service – he is a decorated Iraq war veteran who had a spotless record with the Albuquerque police until Mr. Boyd's shooting.
"I can't tell you how sorry I am that you were sent up there into the mess some other officer created," she told him.
In contrast, she portrayed Mr. Sandy as an officer with a tarnished record, whose actions fueled the confrontation.
Mr. Sandy spent time on the stand discussing his firing from the New Mexico State Police in 2007, after he was caught moonlighting while on the job. He also apologized for saying that he was going to shoot Mr. Boyd "with a Taser shotgun" almost as soon as he arrived at the scene.