We are very proud to announce that McGinn, Montoya, Love & Curry (MMLC) has earned several rankings in "Best Law Firms" of 2022 by U.S. News — Best Lawyers®.
About U.S. News — Best Lawyers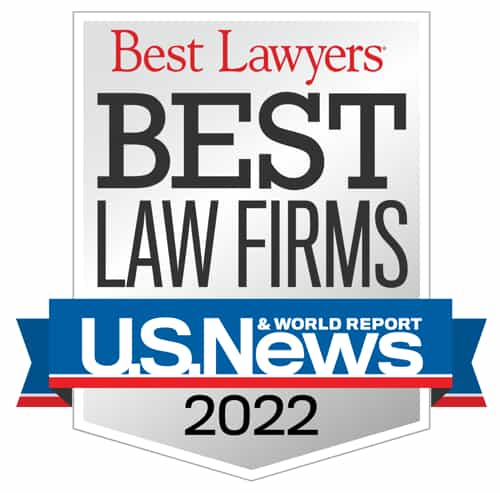 Founded in 1981, Best Lawyers has long sought to showcase the best of the best in the legal world through its "purely peer review" process. It first developed and published The Best Lawyers in America©guide to recognize premier U.S. attorneysin 1983. This annual guide — and the exhaustive peer review behind it — resulted in global renown for Best Lawyers. Years later, in 2009, it partnered with U.S. News & World Report to create a similarly selective guide, "Best Law Firms," to recognize the nation's top-rated law firms.
Honoring a Select Few
Earning a ranking in "Best Law Firms" is no small feat. To be considered, a law firm must first have at least one attorney on staff who was selected as a listed lawyer in the latest edition of The Best Lawyers in America. (Although only 6% of all U.S. attorneys were selected for the 2022 edition, McGinn, Montoya, Love & Curry had three partners chosen for inclusion.) Next, each eligible law firm undergoes an in-depth review in which it is stacked up against other law firms in the same practice area and location. Peer and client feedback is considered along with a firm's past achievements.
Our Rankings in "Best Law Firms" 2022
At McGinn, Montoya, Love & Curry, we strive to achieve the best results possible for our clients across New Mexico. We are very honored to have received a total of five Metropolitan Tier 1 rankings in "Best Law Firms" 2022 for Albuquerque, New Mexico:
Criminal Defense: General Practice
Criminal Defense: White-Collar
Medical Malpractice Law - Plaintiffs
Personal Injury Litigation - Plaintiffs
Product Liability Litigation - Plaintiffs
We would like to thank our peers, colleagues, and clients for recognizing our dedicated legal work, as well as our entire legal staff for making these rankings possible! For more than 35 years, we have worked together to fight in the best interests of our clients, whether that means holding negligent parties accountable in personal injury cases or protecting our clients' Sixth Amendment right to a fair trial and competent legal defense. When you are facing tough times, our attorney team is here to help you get back on track.
Get in touch with McGinn, Montoya, Love & Curry online or by phone at (505) 405-4441. We offer free consultations to all potential clients!