Big rigs are not only dangerous when they are in motion. They can also pose as great a risk to other motorists when they are stopped. An 80,000-lb tractor-trailer blocking the roadway, or even pulled over on the side of the road, is nearly the same as a brick wall obstructing the way.
It's vital for truck drivers to clearly mark where their vehicle is stopped to prevent crashes, particularly at night.
How Visibility Changes at Night
While stopped trucks pose significant risks at any time of the day, the danger is more pronounced at night due to changes our vision undergoes once the sun sets.
Our vision is operated by two kinds of photoreceptor cells: rods and cones. Rods are more sensitive in low light conditions but only produce black and white vision. Cones, on the other hand, produce color vision in brighter light. In low light conditions, such as at night, most of the rods in the retina operate normally. Cones, however, do not function as well. This causes us to have difficulty perceiving color at night.
This can make it more difficult to spot hazards blocking the road at night, particularly if they are not demarcated with colorful or fluorescent signage.
How Truckers Can Mitigate This Hazard
Everyone has auto trouble from time to time--even truckers. While not ideal, sometimes truckers must pull over to the side of the road to deal with breakdowns or other issues. It's vital that truckers take several steps immediately after pulling over to make their vehicle more visible to other drivers. Three such steps include the following:
Turn on the truck's hazard lights.
Place hazard triangles, traffic cones, and/or flares on the roadway and the area near where the truck is stopped.
Contact emergency services for assistance if the truck cannot be restarted.
The failure to take these measures can have deadly consequences for anyone who crosses the truck's path while it is stopped. Our firm has direct experience with an incident as tragic as this.
Several years ago, our firm successfully resolved a case involving a 41-year-old man who was killed when a trucking company chose to violate multiple safety rules, which led to the breakdown of the vehicle. Further, the trucking company permitted the tractor-trailer they were operating to stop in the travel lane of Interstate 40 with no lights or other hazard devices activated.
This photo of our client's car illustrates the dangers associated with trucking companies failing to adhere to safety protocols, failing to maintain their vehicles, and failing to train truckers in handling emergency situations.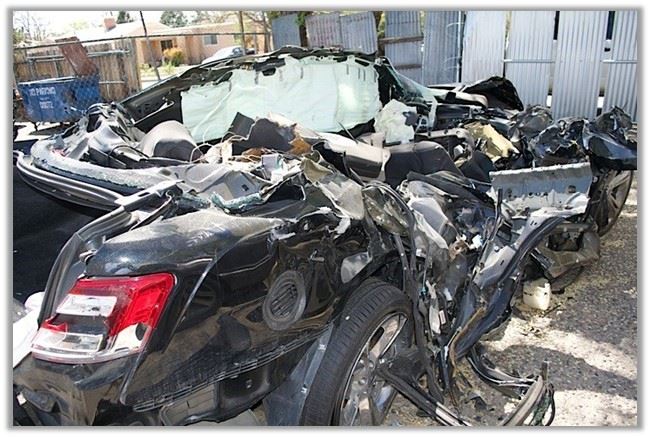 Injured in a Truck Crash? Contact Us Today
What is perhaps most unjust about our client's case, and others like it, is that these incidents are entirely preventable when trucking companies follow safety regulations and train their drivers properly.
If you or someone you love has been injured in a truck crash, our New Mexico personal injury attorneys are here to help. At McGinn, Montoya, Love & Curry, P.A., we understand the potentially devastating consequences of truck crashes, and we make it our mission to help victims seek justice. We encourage you to contact us to learn how we may help you.
Call McGinn, Montoya, Love & Curry, P.A. at (505) 405-4441 to schedule a free, no obligation consultation.